Where To Bet on Rose Namajunas vs Jessica Andrade
Click Here To Bet Rose Namajunas vs Jessica Andrade
Rose Namajunas vs Jessica Andrade Preview:
Jessica Andrade will likely be the toughest challenge of Namajunas' career.
Not only is Andrade a very accomplished and experienced fighter, but champion Namajunas will be travelling to hostile Brazil to fight for the title. There are not many fighters who would agree to fight for the title in the country of their opponent, though this speaks to Namajunas' fearlessness.
Andrade is a brawler that has knockout power, and is able to take down his opponents with relative ease. Andrade is also a brown belt in BJJ, which means that Namajunas won't have a particularly easy time on the ground.
Andrade has many more fights than Namajunas under her belt, though Namajunas has more big fight experience.
Both women have no issue when it comes to cardio, and both women have knockout power and the ability to grapple.
Let's take a look at the odds for this fight, courtesy of Bet365:
Source: Bet365
Time Stamp:
May 5th, 2019 4:49 pm EST
Odds Subject to Change
Rose Namajunas, 2.00
Jessica Andrade, 1.80
It's rare that we see a title fight in which the champion is the underdog, though this is the situation that we have with Namajunas vs Andrade, as Andrade will have a significant hometown advantage.
--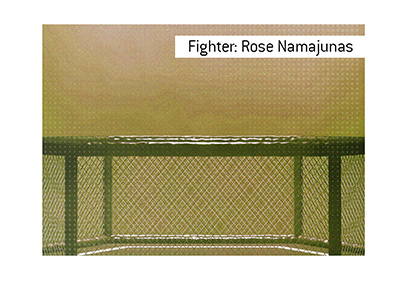 Rose "Thug Rose" Namajunas is the reigning and defending Women's Strawweight champion. Namajunas won the title from Joanna Jedrzejczyk in November of 2017, and then successfully defended the title (against "Joanna Champion" again) in April of 2018.
Namajunas has been inactive since that successful title defense, as she has been nursing injuries and recovering from the trauma of being a first-held witness to Conor McGregor's attack on Khabib Nurmagomedov. Namajunas would go on to say that McGregor's attack on the bus was a "traumatizing" experience.
Namajunas was picked up by the UFC from Invicta FC, where she compiled a record of 2-1. Namajunas was one of the contestants on The Ultimate Fighter: A Champion Will Be Crowned, where she lost to Carla Esparza in the final.
Following that, Namajunas went on a three fight win streak, notching wins over Angela Hill, Paige Vanzant and Tecia Torres. Namajunas' momentum would come to a halt against Karolina Kowalkiewicz, where she lost by unanimous decision. At the time, Namajunas was having issues with partner Pat Barry, and that may have contributed to her loss.
After that, a still-young Namajunas righted the ship, torching Michelle Waterson before going on to defeat Joanna Jedrzejczyk for the title.
"Thug Rose" has improved in leaps and bounds over the years. It's safe to say that her biggest improvement has been her striking, as she masterfully outclassed Joanna Jedrzejczyk to win the title. Namajunas is excellent on the ground as well and possesses a slick submission game.
--
Rose Namajunas vs Jessica Andrade Betting Thoughts:
Let's take a look at the opening odds for Namajunas' last five fights:
Rose Namajunas, 2.80
Joanna Jedrzejczyk, 1.44
Rose Namajunas, 4.50
Joanna Jedrzejczyk, 1.22
Rose Namjunas, 1.74
Michelle Waterson, 1.95
Rose Namajunas, 1.37
Karolina Kowalkiewicz, 2.90
Rose Namajunas, 1.71
Tecia Torres, 2.00
Getting the champion as an underdog is always an interesting value proposition, especially when that champion easily handled Joanna Champion twice in a row.
I think that people are dramatically underestimating Namajunas in this fight, especially under the bright lights of a PPV main event.
Andrade can be susceptible to submissions, as she has lost fights to both Raquel Pennington and Marion Reneau via submission.
Namajunas is an animal that likely won't be rattled by the Brazilian crowd, and she likely has a fair amount of value here.