MotoGP Betting Odds
→ Click Here To BET ON MOTOGP ←
(Ad)
MotoGP is also known as Grand Prix motorcycle racing, which is the top class of motorcycle racing in the world.
If you want to watch or bet on the highest level of motorcycle racing, MotoGP is for you.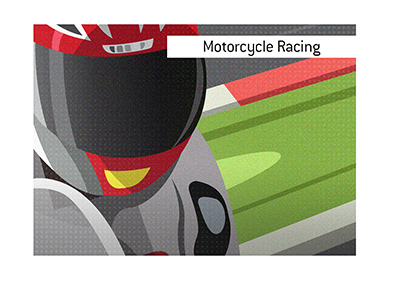 There are multiple levels of MotoGP, though the highest level is contested via the MotoGP World Championship. This includes all of the top bikes in the world, including Aprilia, Ducati, Suzuki and Yamaha.
The current make-up of the MotoGP World Championship looks like this - 20 races, starting in March and concluding in November:
Qatar Grand Prix
Thailand Grand Prix
Grand Prix of the Americas
Gran Premio de la Republica Argentina
Gran Premio de Espana
Grand Prix de France
Gran Premio d'Italia
Gran Premi de Catalunya
Motorrad Grand Prix Deutschland
TT Assen
Finnish Grand Prix
Grand Prix Ceske Republiky
Motorrad Grand Prix von Osterreich
British Grand Prix
Gran Premio di San Marino e della Riviera di Rimini
Gran Premio de Aragon
Grand Prix of Japan
Australian Motorcycle Grand Prix
Malaysia Motorcycle Grand Prix
Gran Premio de la Comunitat Valenciana
As you can see, this is truly a worldwide racing circuit with stops in many countries and multiple continents.
As mentioned, there are multiple levels of racing, including MotoGP, Moto2, Moto3 and MotoE.
-
Like with any other forms of racing, the two main types of bets that people will make on MotoGP include:
1. The winner of an individual race.
2. The winner of the MotoGP World Championship.
Marc Marquez is considered the class of the field at any race that he enters, as he has been crowned the MotoGP Champion a total of six times, including in 2019.
Marquez easily defeated the field in 2019, as he scored a total of 420 points, compared to his next closest competition who finished with 269.
Aside from one race in which he had to retire, Marquez either finished in first or second place in every race of the 2019 season.
-
MotoGP is truly one of the most exciting sports in the world, as anything can happen on any lap. Betting just adds to the excitement, which is why most sports books will offer betting on MotoGP.