Miami Grand Prix - Betting Odds, Event Details, History and Records
Date:
2024.05.03 - 2024.05.05
Contest:
F1
Location:
Miami International Autodrome
In the sun-soaked city of Miami, where sports pulsate through its veins, a new jewel has been added to its crown: The Miami Grand Prix. Debuting in the 2022 Formula One season, this race has quickly become a marquee event in the global racing calendar.
The Circuit:
Situated at the Miami International Autodrome, the track is a testament to modern engineering and design. Crafted by Apex Circuit Design, the track combines the best of permanent and temporary features.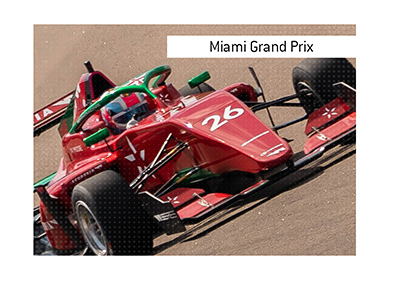 Stretching over a distance of 5.412 km and comprising 57 adrenaline-charged laps, the Miami International Autodrome opened its gates to roaring engines and eager fans on May 7, 2022. It stands proudly as one of the most recently built racetracks in the United States, symbolizing the nation's passion for motorsports.
While the track is permanent in style, temporary infrastructures such as barriers and fences are erected to ensure safety during racing events. These are dismantled after the race is over, blending the circuit seamlessly with its surroundings.
2023 Winner:
Red Bull Racing's Max Verstappen quickly marked his territory on this new track, clinching victories in both 2022 and 2023.
2024 Betting Odds:
The odds for the race will be posted closer to the event date.
Miami: A Sports Capital
The allure of Miami extends far beyond its sandy beaches and vibrant nightlife. The city is a cauldron of sporting passion. From the NFL's Miami Dolphins, whose iconic Hard Rock Stadium lies adjacent to the F1 track, to the NBA's Miami Heat and MLB's Miami Marlins. Soccer fans cheer for Inter Miami, partly owned by football icon David Beckham, and the NHL's Florida Panthers find their home just a stone's throw away in Sunrise.
The
Miami Open
, a tennis tournament eclipsed only by the Grand Slams in prestige, draws crowds at the Hard Rock tennis centre. The Dolphins' stadium has had the honor of hosting the Super Bowl, the NFL's zenith.
Motorsport has always found a home in Miami. Nascar races light up the Homestead-Miami Speedway, and in the olden days, Indycar races brought thrill-seekers to the city's streets.
With the introduction of the Miami Grand Prix, Formula One has not just entered a city; it has become part of an illustrious sporting legacy, extending the proud tradition of Miami as a global sporting hub.
-
View more
Sporting Contests