Where To Bet on Jose Aldo vs Alexander Volkanovski
Click Here To Bet Jose Aldo vs Alexander Volkanovski
(Ad)
Jose Aldo vs Alexander Volkanovski Preview:
If Jose Aldo hadn't already lost to Max Holloway twice, he'd most certainly be in line for a Featherweight title shot with a victory over Alexander Volkanovski.
The reality, however, is that Volkanovski likely earns a title shot with a win at UFC 237, though Aldo would likely be denied. After all, Aldo was emphatically beaten by Holloway not once, but twice.
That being said, Aldo seems to be relishing the role of playing gatekeeper in the Featherweight division. Aldo has put a stop to several Featherweight hype trains recently, and he is hoping to do the same on May 11th against Alexander Volkanovski.
Aldo is a slight favourite to defeat Volkanovski on May 11th - here are the current betting odds:
Source: Bet365
Time Stamp:
May 3rd, 2019 7:56 pm EST
Odds Subject to Change
Jose Aldo, 1.80
Alexander Volkanovski, 2.00
--
Jose Aldo is widely regarded as one of the very best mixed martial arts fighters of all time.
"Scarface" was one of the biggest reasons why the UFC acquired WEC, as Aldo was tearing up the promotion with highlight reel wins over the likes of Cub Swanson and Urijah Faber.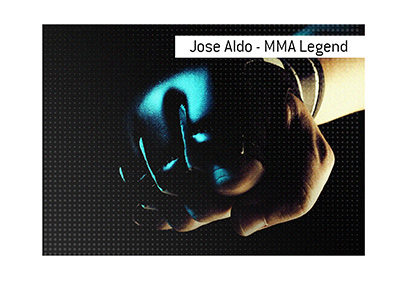 Aldo's dominance in the UFC continued in the UFC, as he beats the likes of Chan Sung Jung, Ricardo Lamas and Kenny Florian to retain the Featherweight title. If you want an example of Aldo's greatness, look no further than his title defence against Mark Hominick at UFC 129, where he overcame pneumonia and a hostile crowd to retain his title.
Aldo's Featherweight title reign came to an end when he lost to arch-nemesis Conor McGregor at UFC 194. Losing to McGregor was bad enough, though losing to McGregor in 13 seconds completely deflated Aldo, who felt as though McGregor was completely disrespectful in the lead-up to the fight.
After getting back on track with a vintage performance against Frankie Edgar at UFC 200, Aldo lost consecutive fights to Max Holloway.
Since those losses, Aldo has defeated two very tough opponents in Renato Moicano and Jeremy Stephens, and looks to continue his recent run with a win over Volkanovski.
Here are the betting odds for Aldo's last five fights:
Jose Aldo, 1.83
Renato Moicano, 1.83
Jose Aldo, 1.74
Jeremy Stephens, 1.95
Jose Aldo, 2.90
Max Holloway, 1.37
Jose Aldo, 1.77
Max Holloway, 2.00
Jose Aldo, 1.61
Frankie Edgar, 2.35
--
Jose Aldo vs Alexander Volkanovski Betting Thoughts:
Volkanovski is an absolute tank of a fighter who was able to control Chad Mendes, which is no easy task.
Volkanovski has won six straight fights in the UFC, though he has never fought anybody with Aldo's skill, experience and quickness. Aldo will need to avoid Alexander's bombs, especially early on, if he wants to win the fight. The key to victory for Aldo will be touching up Volkanovski and wearing down his defences. Aldo is also better on the ground than Volkanovski, though he does have a serious strength deficit to Volkanovski, who is an absolute tank.