UEFA Champions League - Borussia Dortmund vs. Malaga - Quarter Finals - Second Leg - Odds and Betting Preview - April 9th, 2013
Borussia are hosts to Malaga in the second leg of the UEFA Champions League quarter-finals match at the BVB stadion in Dortmund, Germany on April 9th, 2013 at 20:45 CET. The score in the first match at the Estadio La Rosaleda was 0-0.
The visitors were a better team in the first leg in Spain and they are the big favourites to win the game at home.
Borussia 2/5
Draw 4/1
Malaga 8/1
A $100 bet on the home side could bring back $140 ($40 in profit) while the same bet on Malaga could bring back $900 ($800 in profit).
The odds 'to qualify' are 3/10 for the home side and 13/5 for the visitors.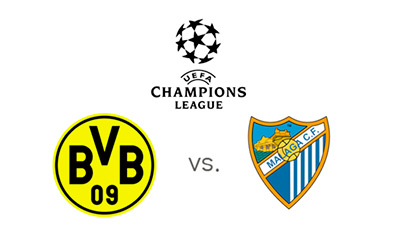 Over the weekend Dortmund beat FC Augsburg 4-2 in the German Bundesliga where they are in 2nd place after 28 games. Robert Lewandowski scored, just as he did in the previous nine league matches. The odds for Robert Lewandowski scoring on Tuesday are 4/6 which means that a $100 bet could bring $167 ($67 in profit).
Malaga are in 6th place in the Spanish La Liga after 30 games and in their last match they lost to Real Sociedad 4-2. It should be noted that Malaga featured only three players from the lineup that faced Borussia last week. Malaga have won 6 out of 19 games played in 2013 so far. The odds of Cesar Julio Baptista scoring for Malaga are 7/2 which means that a $100 bet could bring back $450 ($350 in profit).
UEFA Champions League Group D winners, Borussia are favourites in the upcoming match, but Malaga is not to be written off. The Group C winners have a decent score from the first match at home as they did not conceive, and if they score just one goal on Tuesday this creates a lot of problems for the home side.
This could be a really interesting game.
Can Malaga come up with an upset or will it be all Borussia in front of their home fans?