Villanova Currently 2.75 To Win Tournament
Published on March 24th, 2018 11:04 am EST
Written By:
Dave Manuel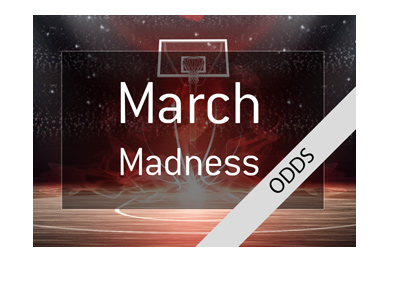 The NCAA Men's Basketball tournament, also known as "March Madness", is now down to just eight teams.
It has been a very chaotic season in NCAA Men's basketball, as multiple scandals have rocked the sport.
"March Madness", however, has a way of making things alright, as the action has been tremendous and there have been numerous upsets and surprising runs, thereby breaking the brackets of the many millions of Americans that follow college basketball.
Some teams that were favoured to win the tournament are still in, while many top teams have fallen in previous rounds.
Heading into this weekend's quarterfinal action, there are currently eight teams still alive in the tournament. Here they are, as well as their current odds of winning the entire tournament:
Villanova, 2.75
Duke, 4.00
Michigan, 5.5
Kansas, 7.00
Texas Tech, 15.00
Kansas State, 13.00
Florida State, 17.00
Loyola Chicago, 41.00
Here are the current odds for this weekend's games:
Loyola Chicago, 2.00
Kansas State, 1.92
Florida State, 2.88
Michigan, 1.5
Texas Tech, 3.5
Villanova, 1.33
Duke, 1.58
Kansas, 2.5
-
As always, there is one team that has defied all of the odds to make it this far, and this year that team is Loyola Chicago.
With a favourable match-up against Kansas State, Loyola Chicago could potentially find themselves in the Final Four, which would be an amazing feat for such a small school. Can their Cinderella run continue?
Villanova, on the other hand, has another favourable match-up and should make it through to the Final Four with no issues.
Enjoy the games this weekend!