Orlando Brown Suffered Partial Blindness In His Eye
Published on May 6th, 2023 1:11 pm EST
Written By:
Dave Manuel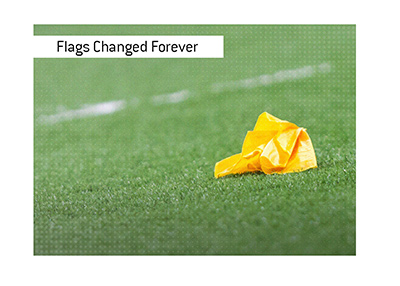 December 19th, 1999 was a day that the NFL would like to forget.
On this day, Orlando Brown and the Cleveland Browns were squaring off against the Jacksonville Jaguars.
This was a seemingly unimportant game on the schedule, as the 13-1 Jacksonville Jaguars were cruising towards the playoffs, while the 2-13 Browns had been eliminated long ago.
This game, however, would change Orlando Brown's life forever.
-
Over the course of the game, referee Jeff Triplette pulled out his flag to call a penalty.
Instead of dropping the flag on the ground or tossing it straight into the air, Triplette hurled the flag, striking Brown in the right eye.
The flag, which was weighted with BBs so it didn't blow or float away, struck Brown hard enough to cause lasting damage.
Triplette ran over to apologize to Brown, though Brown was stunned and in no mood for apologies.
Brown shoved Triplette to the ground, which resulted in his ejection and suspension.
-
The injury was serious.
So serious, in fact, that Brown would miss three years of his prime as he was rendered partially blind in one eye.
Brown, who was signed as an undrafted free agent in 1993, was one of the highest paid offensive linesmen in the NFL, so the injury had severe financial consequences.
Brown would sue the NFL for $200 million, and reportedly settled for somewhere in the neighborhood of $25 million.
-
Brown would regain the sight in his eye, and returned to the NFL in 2003, where he would play for three seasons with the Baltimore Ravens before retiring.
-
The Orlando Brown situation changed NFL flags forever.
In the past, the flags had been filled with ball bearings, coins or beans.
NFL flags now contain sand, which is seen as a safer substance to weigh them down.
In addition, referees no longer throw flags like you would throw a baseball - instead, they either toss the flags straight up in the air or simply drop them on the ground.