Betting on the Canadian Open (National Bank Open)
Click Here to Bet on Canadian Open (National Bank Open)!
(Ad)


↑ Latest Odds Available Here ↑
ATP tour makes its way to Canada towards the end of summer as The Canadian Open Tennis tournament takes place in August every year. The event is also known as the Canada Masters and is annually organized in Montreal and Toronto.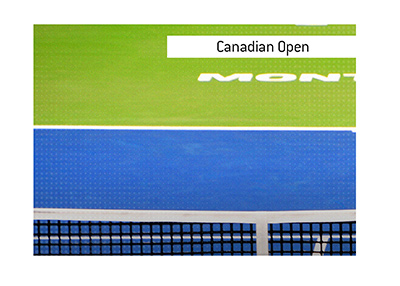 Competition and Courts:
The men's event is a Masters 1000 event on the ATP tour, while the women's event is a WTA 1000 tournament on the WTA tour. The event features outdoor hard courts. The Montreal leg of the tournament is organized at the IGA stadium, while the Toronto leg is played at the Sobeys Stadium.
History and Beginning:
The men's event started in July 1881, while the first women's event took place 9 years later in 1892. Among the oldest tennis tournaments in the world, it is the second oldest, with the prestigious Wimbledon being the oldest tennis tournament in the history of tennis.
Sponsorships and Naming:
Historically, the tournament has had an influence of the sponsors in its naming. Currently, it is named the National Bank Open, presented by Rogers for sponsorship reasons. Interestingly, before 1968 it was named the Canadian National Championships. However, it has had names like Du Maurier Open, Canada Masters, and Rogers Cup following that.
Records and Most Titles:
In a world where Roger Federer, Novak Djokovic, and Rafael Nadal have accumulated scores of trophies in their cabinet, the records of ATP Montreal (also called the Canadian Open) may not seem as extravagant as the others. However, the tournament certainly featured the dominance of Slovakian-national Ivan Lendl.
Ivan Lendl competed in a record 9 finals at the ATP Montreal, out of which he emerged victorious on six occasions. His first three titles came in 1980, 1981, and 1983 events, while he followed these with a hattrick of titles between 1987 and 1989. Big Three have also enjoyed their own fair share of success at the event. Roger Federer won the men's title twice, while both Rafael Nadal and Novak Djokovic have won the title on four occasions.
Ivan Lendl holds the record for competing in the most matches (66) in the event's history, while he also won the most number of (57) matches at the ATP tour Montreal.
Prize Money:
The prize money for the ATP tour 1000 event is about seven and a half (7.5) million Canadian Dollars, which amounts to about 6 million US Dollars. On the other hand, the women's event offers about 3.5 million Canadian Dollars.
Tournament Details:
Total Prize Money: $6 Million
Surface: Hard court
Country: Canada
View more
Tennis Tournaments