Champions League Third Qualifying Round - Match Previews and Odds
Published on August 6th, 2018 - 10:07pm EST
Written By:
Ned Wilson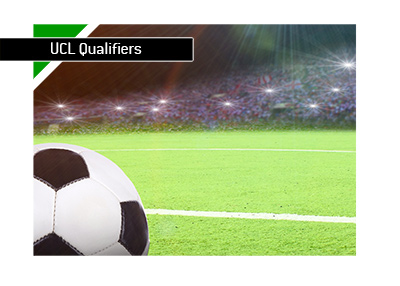 The Champions League third qualifying rounds start on Tuesday with seven fixtures headlining the most prestigious club competition in the world.
18 teams, which have already earned themselves €480,000 by reaching this stage of the competition, will battle it out on the fields across the European continent.
The stakes are high as the winners go on to play in a final round of the qualifying in this most lucrative competition and even losing there would guarantee a team at least a nice €2.9 million which is what they will earn if they lose in the next round and are automatically relegated to the UEFA Europa league group stage. The losers of this round will still have the opportunity to qualify for Europe League and take that same prize pot, as they would continue their European competition there in the case of a loss, albeit with a one more home and away leg to play before where money can be collected.
That being said, stakes go up even more because qualifying for the Champions League group stage would bring each club a whopping €15.2 million. A lot to play for in these next couple of weeks with some very interesting matchups coming our way. Let's have a look at some of them and while at it let us also use team market values to help us put matters into perspective with very few matches behind us with which to realistically gauge the form of the teams involved:
FC Astana (team value €24.15 Million) v. Dinamo Zagreb (€54.05 million)
The two teams that according to their market value are heavily out-sized in favour of Dinamo Zagreb, meet in Kazakh capital in the opening match of the round.
The bookies seem to lean towards the Kazakhstan's representative, however Dinamo Zagreb has traditionally shown that they are among the best of the rest when it comes to qualifying for the European competitions, having played a Champions league group stage four times in the last 8 years.
FC Astana has had that honour once so far in 2015/16 season finishing fourth in their group, having drawn four of their matches. Since then they have been a regular participant in the UEFA Europa League, even making it out of the group stage last year where they were defeated by Sporting CP of Portugal 6-4 on aggregate.
The two teams have never met before and while Astana has struggled somewhat in their last round, dispatching Danish Midtylland 2-1 on aggregate, Dinamo was much more clinical seeing off Israeli Hapoel Be'er Sheva 7-2 on aggregate. The two teams are in different stages of their domestic championships as well, with Astana in first place after 22 rounds, while Dinamo have just started their domestic campaign with a draw and a win in their first rounds, however the teams focus is currently on the group stage of Champions league and they can be forgiven for taking their focus of their domestic battle, where they are large favourite to take the crown.
Source: Bet365
Time Stamp: August 6th, 2018 9:00 am EST
Odds Subject to Change
Astana to win 11/10
Draw 21/10
Dinamo to win 11/4
-
Qarabag (€11.85 million) v. Bate Borisov (€15.25 million)
The two fairly balanced teams meet in Azerbaijan for their first leg match. Bate Borisov holds the edge when it comes to team value and has five players valued over €1 million compared to Qarabag's three.
Qarabag was in a group stage of a Champions League last year for the first time in their club history, while the Belarus side has five appearances to their name, the last one being in 2015/16 season. Neither's national championships have started yet, but their European matches have been going according to plans. In the last round Qarabag beat Albania's Kukeshi by 3-0 on aggregate, while Bate Borisov disposed of Finish champions HJK with two early away goals in the second-leg match which they won by 2-1 after goalless draw at home prior to that.
This will be a first meeting between the two and slight edge goes to Bate Borisov who has kept their team pretty much intact from last season. Qarabag has seen a number of departures, most notably their starting goalie Ibrahim Sehic, who moved to Turkish Superlig, while they signed a left winger Abdellah Zoubir from Lens of French second league. Bate has already played 17 rounds of their championship while Qarabag start their title defence this weekend.
Source: Bet365
Time Stamp: August 6th, 2018 9:00 am EST
Odds Subject to Change
Qarabag to win 21/20
Draw 3/1
Bate Borisov to win 31/10
Malmo FF (€16.05 million) v. MOL Vidi FC (€13.90 million)
Another matchup which will be hard to call just by looking at team value. Malmo FF holds the edge by about €2 million and also holds the edge with eight players valued at €1 million or higher compared to only three on the Hungarian side, better known as Videoton, as they were called when they played a UEFA Cup final in 84/85 season against Real Madrid. Neither team has done much on the international stage in recent years and with the winner of this tie guaranteed a place in Europe in the fall there is much at stake here for both teams.
They have never met before and judging by their play in recent weeks a slight edge goes to Malmo FF who looked more convincing in their previous two ties winning them 7-1 in total, while MOL Vidi squeezed through their first two encounters, winning each by just a goal difference.
The bookies favour Malmo FF with new coach, Uwe Rosler at helm, and European fall within their grasp expect them to attack early and often in front of their fans.
Source: Bet365
Time Stamp: August 6th, 2018 9:00 am EST
Odds Subject to Change
Malmo FF to win 2/5
Draw 8/3
MOL Vidi FC to win 8/1
-
Slavia Prague (€39.30 million) v. Dynamo Kiev ($66.90 million)
When the Czech and Ukrainian last year's league runners-up meet in Prague it will be an interesting tie between the two teams who have have very different fortunes in European football since the beginning of this century as Dynamo Kiev have played in Champions League 11 times while Slavia has yet to feel the joys European group stage football.
Dynamo has the edge in all segments, experience before all, but its players are currently valued at almost double their adversaries in this tie. 17 players are valued at €1 million or higher in the Czech team, while Ukrainians boast 21 players on their roster worth €1 million or more. However Dynamo Kiev have seven players valued at €3.5 million or higher while the Czech side have only one. With quality gab and experience gap apparent between these two sides the bookies are being quite generous to the Ukrainian side making them underdogs in this match which will certainly not decide this two legged tie, but will certainly set the tone before the rematch in Ukraine. The two have never met before and both are a top of their leagues after three rounds of play with maximum nine points each.
Source: Bet365
Time Stamp: August 6th, 2018 9:00 am EST
Odds Subject to Change
Slavia Prague to win 29/50
Draw 21/10
Dynamo Kiev to win 2/1
-
Standard Liege (€59.60 million) v. Ajax (€229.15 million)
The perennial European and Dutch club Ajax of Amsterdam is in action as well and with players valued over €200 million they are four times the size of their Belgium opponents and it would be rather surprising if Ajax didn't progress through to the next round. The two teams met in group stages of the UCL 16/17 season and Ajax won at home while the match in Liege ended with a 1-1 draw. Things have changed somewhat since then, but Ajax still looks better on paper and despite the fact that their national championship hasn't started yet they showed good form in their previous UCL qualifying rounds by disposing of Sturm Graz 5-1 on aggregate. Standard Liege has played two league matches and has won at home and drawn away.
Ajax have shown good form in early matches this year and having spent €40 million this off season to strengthen their squad with the likes of of Daley Blind from Manchester United and Dusan Tadic from Southampton, they certainly have champion league aspirations. Standard Liege will be a formidable foe but with only €9 million spent on new players thus far and none of them truly high profile to make a difference in a match of this magnitude. Bookies favour Ajax, if not for a win then a draw at least.
Source: Bet365
Time Stamp: August 6th, 2018 9:00 am EST
Odds Subject to Change
Standard Liege to win 11/4
Draw 13/5
Ajax to win 19/20