Some Lionel Messi Records Will Be Almost Impossible To Top
Published on January 15th, 2023 8:08 pm EST
Written By:
Dave Manuel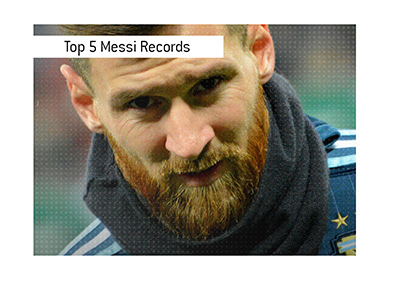 After winning a World Cup with Argentina, many people declared that Lionel Messi is now the greatest football player to ever walk the Earth.
While that point may still be up for debate for some, there is no debating that some of Lionel Messi's record may NEVER be broken.
There are many Lionel Messi records to choose from, but here are five that seem to be particularly hard to break:
1.
91 goals in a single calendar year.
In 2012, Lionel Messi scored a total of 91 goals across all competitions - league games, Champions League games and games for Argentina.
This is simply a goal scoring pace that seems almost unimaginable to top in a single year, especially in an era of increased parity among teams and countries.
2.
672 Official Goals with Single Club.
Lionel Messi notched a total of 672 goals with Barcelona, which is another mark that will be very hard to top, as it combines superlative goal scoring ability with longevity (both in terms of health and longevity with a club).
With top players regularly switching teams, this mark seems to be particularly hard to beat.
3.
21 Match Goal-Scoring Streak in League Play.
During the 2012-13 season with Barcelona, Lionel Messi scored in 21 straight league games, for a total of 33 goals.
The level of consistency required to break this mark is almost impossible to imagine, and this record should be safe for many, many years to come.
4.
12 Year Gap Between First and Last Ballon d'Or Awards.
It's hard enough to win a Ballon d'Or award.
To be named the Ballon d'Or winner TEN years after you won your first Ballon d'Or award?
That is another record that will likely be safe for many decades to come.
5.
Oldest Player to Win FIFA World Cup Golden Ball award - 35 years, 178 days.
30 years old is considered to be old in the football world these days.
Could anybody conceivably win the Golden Ball at an age older than when Messi won it in 2022?
In order to pull this off, a player that is nearly two decades into their career would have to be the best player in the World Cup tournament.
This seems to be incredibly unlikely.
-
Lionel Messi has a number of records that may never be broken, those these five are certainly at the top of the list.