Real Madrid Has Slight Edge To Win
Published on May 4th, 2016 7:15 pm EST
The finals of this year's Champions League is set, as Real Madrid and Atletico Madrid will be squaring off in Italy on May 28th.
Both Real Madrid and Atletico Madrid had challenging paths to the finals. Real Madrid was able to narrowly put away a very game Manchester City, while Atletico Madrid managed to upset Bayern Munich. Atletico Madrid has put away Barcelona and Bayern Munich in back-to-back contests and will be looking to knock off their third giant of the football world on May 28th.
In addition to battling for the Champions League title, Real Madrid and Atletico Madrid are currently locked in an amazing battle for the La Liga title, along with Barcelona. Needless to say, the next few weeks will be providing some breathless action for Spanish football.
-
Here are the current odds for the Real Madrid vs Atletico Madrid Champions League match:
Real Madrid, 2.30
Draw, 3.00
Atletico Madrid, 2.87
According to these odds, Real Madrid has the slight edge to win, while Atletico Madrid is slightly behind at 2.87. These odds mean that Real Madrid has implied odds of 43.48% of winning Champions League, while Atletico Madrid has a 34.84% chance of winning.
According to the bookmakers, the likeliest outcome of the Champions League final is a 1-1 result, which is currently trading at 6.50. The second likeliest result is a 1-0 victory for Real Madrid (7.50), while the third likeliest result is a 1-0 win for Atletico Madrid (8.50).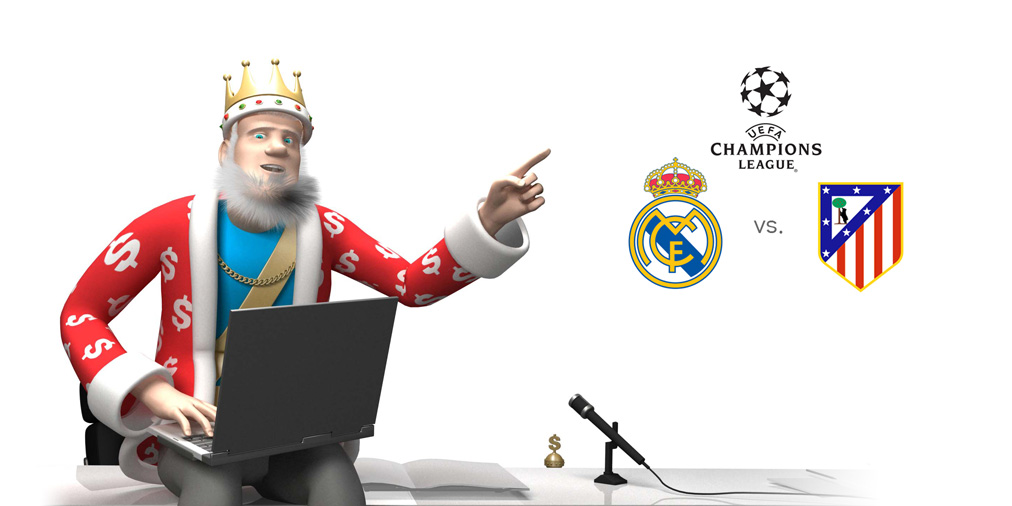 Real Madrid is in pursuit of their 11th Champions League title. Their last title came in 2014, when they topped Atletico Madrid 4-1 in a thrilling contest. Atletico Madrid was mere moments away from victory before Sergio Ramos tied the match in the third minute of injury time.
Atletico Madrid will surely be out for revenge on May 28th. Can Real Madrid stop the surging side from Atletico Madrid, or will Atletico Madrid extract their revenge?