Man Utd Looks To Topple Powerhouse From Barcelona
Published on April 7th, 2019 11:10 am EST
Written By:
Dave Manuel
Click Here To Bet on Man Utd v Barcelona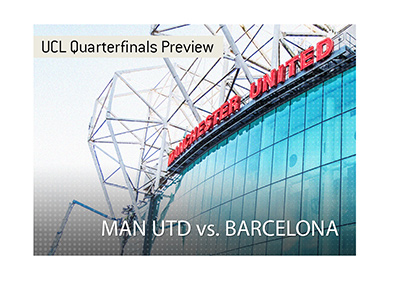 Manchester United drew one of the hardest quarter-final assignments in Champions League, as they will be taking on the powerhouse from Barcelona.
Many Man Utd fans are just happy to be in the quarter-finals, as this result was certainly unexpected, given the uneven (to put it nicely) start to the season. You'd have to think that Manchester United will be playing with reckless abandon against Barcelona, which could make them a dangerous team to square off against.
Barcelona, as usual, is looking great this season, mainly thanks to the play of Lionel Messi. Messi has been practically unstoppable this year and will be looking to lead his club to the semi-finals.
The first leg of the Man Utd/Barcelona contest will be taking place at Old Trafford, though Man United remains the underdogs to win. Let's take a look at the betting odds for the opening leg match as of this moment, courtesy of Bet365:
Source: Bet365
Time Stamp:
April 7th, 2019 10:58 am EST
Odds Subject to Change
Man Utd, 3.50
Draw, 3.60
Barcelona, 2.00
Here are the odds to qualify for the next round of Champions League:
Man Utd, 3.75
Barcelona, 1.25
As you can see, the bookmakers aren't giving Manchester United much of a chance of winning.
-
Manchester United pulled off the miracle in the Round of 16 when they came back from 2-0 down (at home) to defeat PSG 3-3 in aggregate (Man Utd had more away goals).
Barcelona, on the other hand, destroyed Lyon 5-1 in the Round of 16.
Barcelona has been practically unstoppable on the offensive side of the ball so far this season, as they have scored over 80 goals in La Liga and countless more in Champions League.
Lionel Messi has an astounding 33 goals in La Liga action so far this season, as well as an additional 8 goals in Champions League. If Man Utd wants to have any shot of winning this quarter-final contest, they had better hope to contain Lionel Messi.