FIFA eWorld Cup and the Rise of Esports
Published on September 13th, 2018
Written By:
Ariel Noel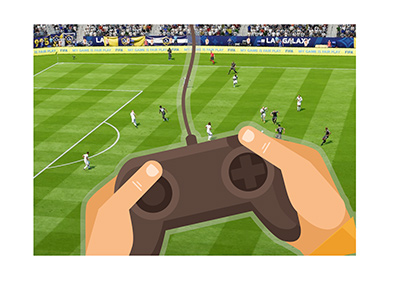 It is a well known fact that the esports industry is currently experiencing exponential growth. When it comes to the game of soccer, the video game maker EA Sports, with their partnerships with FIFA, UEFA and most big national leagues such as the EPL, La Liga, Serie A, Bundesliga, Ligue 1 and MLS, has a firm grip on that segment of the esports industry.
While video game soccer is still a small part of the overall esports pie, the following data illustrating it's rise can not be ignored. And it isn't. Everybody seems to be jumping into the esports arena these days, corporations, football clubs and individual players alike.
It is estimated that the 2018 FIFA eWorld Cup final, a 3-day event, had 29 million online views, which is a 400% increase compared to the previous year. The live event was held in the O2 arena in London and had the attendance of 3,000. It was streamed in English, Spanish, German and Chinese languages. The total tournament purse this year was $400,000, with the winner receiving $250,000. A well known Saudi Arabian player 'MsDossary', 18 years of age, won the tournament.
Couple of interesting facts about the FIFA eWorld Cup are that both home and away matches are played in the knockout rounds of the competition, in a way that one match is on Playstation and one on Xbox gaming platform. Out of the 32 finalists at this year's tournament, 8 came from Germany.
Paris Saint Germain, Manchester City, AS Roma, Ajax, Celtic, Wolfsburg, Schalke 04 and West Ham are just some of the high profile clubs from the real world of soccer, who are building their own esports teams, with the aim to compete in the upcoming EA FIFA tournaments, which promise to be bigger and better every year. At this point, it is all about awareness, and having a good esports teams puts the brand forward in front of millions of fans. As the industry grows, the money generated from winning tournaments could become significant also.
The Arsenal FC player, Mesut Ozil, made the headlines recently when he decided to start recruiting for his EA FIFA esports team.
--
In the esports arena, the FIFA eWorld Cup is still fairly insignificant in terms of numbers compared to tournaments for games such as The League of Legends and Dota, but it is growing at a rapid pace nonetheless.
The much anticipated EA Sports FIFA 19 title is set to be released on Friday, September 28th, 2018.