Odds to Win World Cup Russia 2018 Golden Boot
Published on March 2nd, 2018 8:02am EST
Written By:
Ariel Noel
Click Here to Bet on World Cup Golden Boot Winner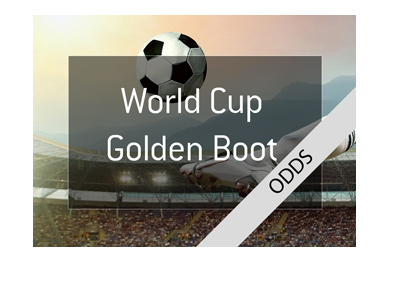 The World Cup in Russia is just over three months away and the excitement is building up with each passing day. One of the most popular tournament bets is on the Golden Boot winner, the player that scores the highest number of goals.
At the moment, Lionel Messi is the favourite to win the award, followed by Junior Neymar, Antoine Griezmann and Cristiano Ronaldo.
The motivation for players to make a mark in the World Cup could not be higher. This is the place and time when the legends are made and the new stars are born. The World Cup is the most watched sporting event on the planet.
Here are the odds to win the World Cup Russia 2018 Golden Boot:
Source: Bet365
Time Stamp:
March 2nd, 7:40am EST
Odds Subject to Change
Lionel Messi (Argentina): 9/1
Junior Neymar (Brazil): 10/1
Antoine Griezmann (France): 14/1
Cristiano Ronaldo (Portugal): 14/1
Harry Kane (England): 16/1
Timo Werner (Germany): 16/1
Romelu Lukaku (Belgium): 16/1
Fernando Gabriel Jesus (Brazil): 20/1
Alvaro Morata (Spain): 20/1
Robert Lewandowski (Poland): 25/1
Luis Suarez (Uruguay): 25/1
Sergio Aguero (Argentina): 25/1
Thomas Muller (Germany): 25/1
Edinson Cavani (Uruguay): 25/1
--
It would make sense to think that a player from one of the nations favored to win the World Cup would have better odds of winning the top goalscorer award, as they would likely get to play more games compared to players from nations projected to get eliminated early in the competition. This is not always the case though and we only have to look back to the last tournament in Brazil when James Rodriguez ended up winning the award, while his nation of Colombia ended their journey in the quarter finals. Rodriguez scored a total of 6 goals.
It will be interesting to see how things unfold. Will the winner be one of the usual suspects or will we see the emergence of a new star remains to be seen.
One thing to remember is that in case of a tie, the player with more assists wins.
Who do you think will win the award?