Premiership Teams Lock-in Shirt and Sleeve Sponsors for the 2018/19 Season
Published on August 10th, 2018 - 6:30pm EST
Written By:
Ned Wilson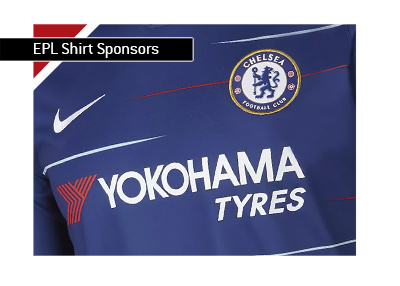 As the English premier league is about to kick off, all the teams have locked in their shirt sponsors and sleeve sponsors for the season.
Overall value of shirt sponsors for 2018/19 season has increased by 11% this year, with total value of deals set at €350 million. The sleeve sponsors will add another €97 million to the 20 clubs combined making a total number of agreed sponsorship deals almost €450 million. Add to that kit sponsors and English premier league will have generated well over €700 million in sponsorship revenues alone. And there are TV rights, which were €2.7 billion last year split among the 20 teams and one truly gets to appreciate the commercial strength of the English Premier League.
Comparing that to the rest of the top 5 European leagues the differences are more than apparent showing that the attractiveness of English club football might be at its all time high and it continues to grow with 11.3% annual increase in the value of sponsorship deals this year alone.
For comparison's sake, German Bundesliga teams last year had around €300 million revenues from sponsors and TV rights revenues for teams of €1.16 billion for a season. It is worth noting that Bundesliga has signed a new broadcasting deal at the beginning of the 2017/18 season. This TV deal is the most lucrative Bundesliga's TV deal and will last until 2021/22 season.
Italian Serie A teams made almost €200 million last year from sponsors while recording a revenue of €874 million from TV rights. With the arrival of Ronaldo and potentially Modric from Spanish Primera to Italy's top plight, TV rights revenues are expected to rise considerably over the coming period as there is now again a global hype in the making when it comes to Serie A.
Spanish Liga teams made about the same as their counterparts in Italy, with FC Barcelona and Real Madrid bringing in €120 million just on their own. TV right distribution among teams last year amounted to €1.2 billion.
To finish off comparisons of the top 5 leagues, we see that the French League 1 teams collected a total of €100 million from sponsors and €819 million from broadcasting revenues.
The premier league kicks off tonight when Manchester United hosts Leicester. The first will take the field with Chevrolet on their chest, marking fourth year of their seven year deal worth $80 million per year, while the latter will run out on the field boasting King Power, Thailand's leading travel retail group and FC Leicester owner, in a deal that costs Leicester's owners €4.5 million.
--