Bayern Munich vs. Real Madrid UEFA Champions League Preview
Published on April 24th, 2018 - 8:26am EST
Written By:
Ariel Noel
Click Here to Bet on Bayern Munich vs. Real Madrid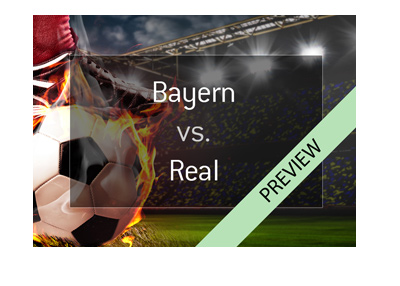 The upcoming Champions League match between Bayern Munich and Real Madrid truly is a clash of the titans. The two clubs are meeting for a record 25th time in the competition, with Real coming out victorious on the last five occasions.
Real Madrid are chasing their 13th Champions League title, and if they can accomplish that goal this season, it would be their third in a row. Zinedine Zidane's team has struggled domestically this year, losing the league early as well as the cup. But in the Champions League, Ronaldo and Co. are firing on all cylinders.
Bayern are revitalized since Jupp Heynckes came out of retirement to help bring the club out of a slump. Thomas Muller, who's form has benefited the most under the famous manager, and his teammates have already won the Bundesliga title and are in the final of the domestic cup. It really would be something special if Bayern can win the treble, as they did in 2013, when Heynckes originally retired.
The odds for the upcoming match at the Allianz Arena in Munich are:
Source: Bet365
Time Stamp:
April 24th, 2018 - 6:27 am EST
Odds Subject to Change
Bayern Munich: 1/1
Draw: 11/4
Real Madrid: 14/5
To qualify for finals:
Bayern: 19/20
Real: 4/5
To win the tournament
Real Madrid: 2/1
Bayern Munich: 11/5
Liverpool: 9/4
Roma: 9/1
--
This two-legged matchup is going to be tight according to the odds. Bayern are the favourites to win at home, while Real are the favourites to go through to the final, but with the slightest of margins.
--
There is so much to look forward to when it comes to these two giants of European football. Can Cristiano Ronaldo keep up with his amazing performances? He sure left us salivating for more with the scissor-kick quarter-final goal vs. Juventus and the perfectly executed, tie-winning penalty in injury time. Then there is Robert Lewandowski, who has scored 39 goals in 43 matches this season for Bayern. Who could forget the four goals he scored against Real Madrid while wearing the colours of Borussia Dortmund in 2013?
There are four clubs from four biggest soccer nations left in the tournament this year and the football world will have its eyes on Munich this Wednesday.
It is Zidane vs. Heynckes. It is Spain vs. Germany.
Enjoy the match everyone!