Crucial La Liga Clash Between Atletico Madrid and Sevilla on Sunday
Published on March 17th, 2017 4:51 pm EST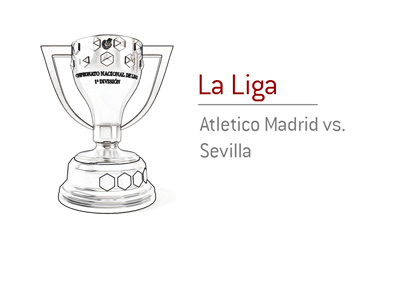 One of the most interesting matches of the weekend will see Atletico Madrid play host to Sevilla as La Liga action resumes.
As of this moment, the top of the La Liga table looks like this:
Real Madrid, 62 points
Barcelona, 60 points
Sevilla, 57 points
Atletico Madrid, 52 points
UEFA recently announced that as of the 2018-19 season, the top four leagues in the world - La Liga, Bundesliga, Premier League and Serie A - will be guaranteed four Champions League spots every year.
There is one more season, however, left to play before that new change goes into effect. This means that the top three teams in La Liga will automatically qualify for a Champions League spot, while the fourth place team will be left with a qualification round position. As a result, you can easily see why this weekend's game between Atletico Madrid and Sevilla is so important. If Atletico Madrid can win outright at home, they will move to within two points of Sevilla and the final guaranteed Champions League spot.
-
Atletico Madrid, which recently advanced to the quarter-finals of Champions League, is the favourite to win at home - here are the current betting odds:
Atletico Madrid, 4/6
Draw, 11/4
Sevilla, 9/2
According to the bookmakers, the likeliest outcomes of Sunday's match look like this:
Atletico Madrid 1-0, 6/1
Draw 1-1, 6/1
Atletico Madrid 2-1, 7/1
Atletico Madrid 2-0, 7/1
Draw 0-0, 10/1
-
As of this moment, Real Madrid is the favourite to win La Liga at 2/5, followed by:
Barcelona, 9/4
Sevilla, 66/1
Atletico Madrid, 250/1
Atletico Madrid is on the outside looking in when it comes to securing a guaranteed Champions League spot for next year, though they could move considerably closer to a spot with a big victory over Sevilla at home over the weekend.