Distribution of UEFA Champions League Revenues in 2017/18
Published on April 12th, 2018 - 6:27pm
Written By:
Ariel Noel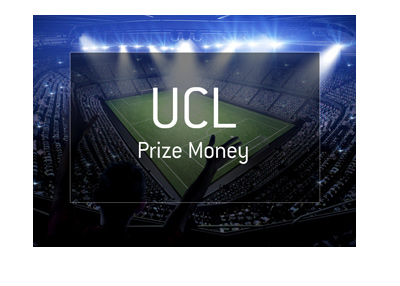 While the football world is still buzzing from the excitement of the Champions League quarter-finals, let's take a look at the revenue distribution in this season's tournament and where the current semi-finalists stand in terms of income earned.
For the 2017/18 season, a total of €1.26b is shared among the clubs participating in the UEFA Champions League. Each of the 32 teams in the group stage is guaranteed a minimum of €13.2m. Additional €1.5m is awarded for each group stage win and €.5m for each draw. Teams that make it to the round of 16 get €6m on top. In the quarter-finals that number rises to €6.5m. Semi-finalists receive added €7.5m. And finally, the winners get €15.5m, while the runners-up receive €11m.
This is what each of the four clubs still alive in the tournament has earned so far:
Real Madrid: €39.2m
Bayern Munich: €40.2m
Liverpool: €38.7m
Roma: €38.2m
The UEFA also makes market-pool payments to teams playing in the tournament on top of guaranteed group stage income and performance bonuses. A market-pool payment amount depend on the club's ranking within their own association and also their association's ranking within UEFA. Approximately 25% of the total money shared among Champions League clubs is distributed via market-pool payments.
Of course, this is just a part of the the total income that success in the Champions League brings. Sponsorship contract bonuses, extra shirt sales, increased player market values and offseason tournament invites are just some of the examples of added monetary benefits.
Real Madrid is one of the highest earning clubs in the world and Forbes estimates that their revenues last season were in the area of €688m. Bayern Munich were not far behind, bringing in €657m. Liverpool total revenues in 2016/17 were €448m, while Roma generated €218m.
The Champions League revenues alone, while not a great deal of money for a club such as Real Madrid, are a difference-maker for Roma, who missed out on Champions League football last season. Even if their amazing European journey ends in the semi-finals, they will have strengthened last season's gross numbers by more than 20%. The net increase is likely very significant. When it is all said and done, counting all revenue streams, Roma will be looking at a lot more than a twenty percent gross increase. This is a big deal. This is the type of money that can help renovate stadiums and attract star players.
--
Anyhow, back to the current events. Tomorrow is the draw for the Champions League semi-finals. There will be a lot to cover in terms of match previews and betting odds. Good-bye until then.