Jack Harper Defeated J. Sandiford In Just 18 Minutes in 1946
Published on May 9th, 2022 4:23 pm EST
Written By:
Dave Manuel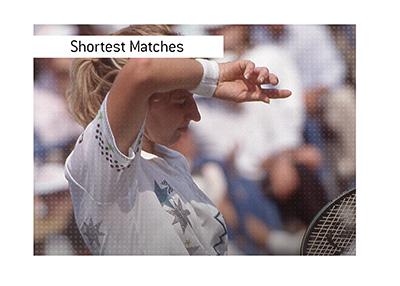 There have been some incredibly short tennis matches over the history of the sport.
The quickest tennis match on record, however, that didn't include a forfeit, belongs to a 1946 Surrey Open Hard Court Championships match between Jack Harper and J. Sandiford.
The match between Harper and Sandiford ended after just 18 minutes, with Harper winning 6-0, 6-0.
In fact, the outmatched Sandiford won just ONE point over the course of the match.
The fastest men's Grand Slam tournament match belongs to William Renshaw vs John Hartley.
This 1881 Wimbledon final lasted just 36 minutes, with Renshaw winning 6-0, 6-1 and 6-1.
-
The fastest women's tennis match ever was a 1963 Eastern Grass Court Championships contest between Margaret Court (winner) and Darlene Hard.
Court ended up winning the match by a score of 6-1, 6-1, with the match taking just 24 minutes.
The fastest ever women's match at a major took place between Sue Tutt and Marion Boundy at the 1969 Wimbledon event, with Tutt winning in just 20 minutes.
What makes this even more notable is the fact that Boundy managed to win 2 games (Tutt won 6-2, 6-0), though the match still took just 20 minutes.
-
A very notable short match took place between Steffi Graf and Natasha Zvereva at the 1988 French Open Final, with Graf winning 6-0, 6-0 in just 34 minutes.
This was the official time of the match, though it was delayed due to rain, and people note that the actual match itself took just 32 minutes to complete.
-
These are the fastest tennis matches ever.