2010 Wimbledon Epic Between John Isner and Nicolas Mahut Continues to Hold Record
Published on September 13th, 2021 12:33 pm EST
Written By:
Dave Manuel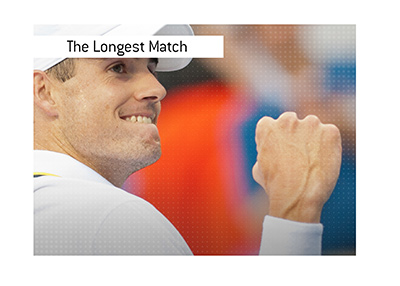 What was the longest tennis match in tennis history?
There is one match that stands heads and shoulders above the rest in terms of both total match duration and total number of games played.
This 2010 match had 61 more games played than the next longest match on record, and was also a full four hours plus longer than the next longest match.
This match was so long that it had to be played over three days.
-
At the 2010 Wimbledon, John Isner and Nicolas Mahut put on the longest match in the history of the game of tennis.
The match, which featured
11 hours and 5 minutes
of playing tennis, finished out like this:
6-4, 3-6, 6-7, 7-6, 70-68
The final set of a Wimbledon match couldnt't be decided by tiebreaker (at the time), which is why the fifth and final set lasted an unbelievable 138 games.
In total, 183 games were played during the match, which easily bested the 122 games that were played in the 1973 Davis Cup match between Stan Smith/Erik Van Dillen and Patricio Cemejo/Jaime Fillol.
-
A few notes about the match between Isner and Mahut:
1. It was a first round match. It wasn't like this was a finals match or anything - Isner and Mahut went tooth-and-nail in the first round, delighting the fans that were in attendance.
2. The match started on June 22nd and ended on June 24th. Due to fading light, the match was postponed on two consecutive days.
3. Isner finally won at 4:47 pm on June 24th.
4. Each player served over 100 aces over the course of the match.
5. Mahut failed to convert on four match points.
6. Isner said he was so hungry after the second day of play concluded that he could have eaten "12 Big Macs". Instead, he consumed three boxes of pizza, chicken and mashed potatoes.
7. Isner, predictably, got crushed in the second round of play, as he was only able to win five games over the course of the three set match.