2022 ATP Tour Season Starts in Sydney, Australia
Published on December 23rd, 2021
Written By:
Ned Wilson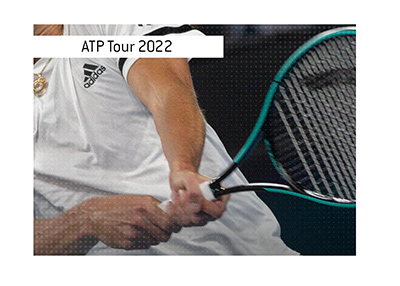 Short break of the tennis season is almost over and the players are getting ready to head over to Australia in the coming days.
First on schedule for the Australian Open Summer series is the third edition of the ATP Cup which will feature 16 teams spread across four groups. Two singles and one doubles tie between each team in the group will determine the first two teams which will go on to contest the knockout stage with the final planned on January 9th in Melbourne.
The teams qualified based on the singles ATP ranking of their best player, while Australia was awarded a Wild Card entry, giving us the following groups:
Group A: Chile, Norway, Serbia, Spain
Group B: Australia, Bulgaria, Italy, Russia
Group C: Canada, Germany, Great Britain, USA
Group D: Argentina, Greece, Georgia, Poland
The large favorites to win are Russia, who just won a revamped Davis Cup competition with a similar format to the one being played in the ATP Cup. They boast two top 10 players in Medvedev and Rublev, and if those two are on form it will be hard for any team to match up with them.
Teams that look like they could threaten the Russian dominance of this event would have to be Serbia, led by world no. 1 Novak Djokovic and Italy which will boast a strong team featuring last year's Wimbledon finalist and ATP number 7 Matteo Berretini and world number 10 Yannick Sinner.
Other teams that lurk in the background waiting for their chance in the ATP CUP will certainly be the host country Australia which always play well at home and are led by world no. 34 Alex De Minaur and the always dangerous Spain which has a solid line-up led by world no. 19 and 20, Bautista Agut and Carreno Busta, respectively.
Best of the rest is probably team USA led by ATP no. 23 Taylor Fritz and ATP no. 24 John Isner with a strong doubles team of Ram and Krajicek, while their North American neighbors Canada bring a youthful team led by world no. 11 Auger-Aliassime and no. 14 Dennis Shapovalov.
Other big tennis names that will feature in the ATP CUP include world no. 3 Alexander Zverev of Germany and ATP no. 4 Tsitsipas of Greece, but their chances of fighting for the top spots look slim as their supporting cast is not at the level required to fight with the big guns. Greece's second-best ranked player is Pervolarakis, currently ranked at 398 in the ATP ranking while Germany's second best is Struff, ranked just outside the top 50.
What are teams playing for?
The ATP CUP will be a fun event which will give the participants a chance to play several matches before the start of the Australian Open. However, both prize money and ATP points will be awarded giving the players that little extra motivation to showcase their best game.
ATP points will be awarded based on the level of competition reached and the strength of your opponent, so a win in a group stage could bring you a maximum of 75 and a minimum of 20 ATP points. Winning in knockout stages can bring a player a minimum of 25 points while a win in a final against a top 10 ranked opponent can bring you 250 ATP points.
The system is made so that the wins against top ranked players are valued more and vice versa. The most ATP points a player can win is 750 while a player ranked outside of top 300 can win a maximum of 250 ATP points, providing he wins all his matches and his team reaches the final.
Prize Money
There is also money in play, with a total pot of USD 15 million with money awarded for participation fees, match wins and team wins. So, in addition to the ATP points top players stand to earn a maximum of USD 800.000 with a final win for a team top ranked player bringing in a hefty USD 290.000.
Participation fee for the top ranked players ranges between USD 75.000 and USD 200.000 which is the amount that the top 3 ranked players will charge for their appearance alone. Djokovic, Medvedev and Zverev fit that bracket, while all team members stand to profit from the prize money distribution, with the lower ranked players guaranteed to take with them at least USD 7.500 and potential additional prize money should their team record a win.
Some notable absences will involve Spain's Rafael Nadal who tested positive for Covid recently and Dominic Thiem who is recovering from non-Covid related illness.