Teams on Pace For Highest Scoring Year Since 1970-71
Published on October 27th, 2018 2:54 pm EST
Written By:
Dave Manuel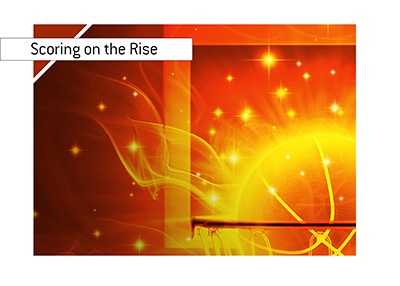 If you have noticed many high scoring games in the NBA so far this season, you aren't imagining things as the NBA is on pace for its highest scoring season since 1970-71.
Through Friday night, NBA teams are averaging 112.4 points per game, up over 6 points per game from last year's average. There have been many games that have featured teams scoring in excess of 130 points, plus there have been multiple 50+ point scoring performances so far this season (Blake Griffin, Steph Curry).
Scoring in the league has been steadily on the rise over the past couple of years, though things have gone crazy this season, and it doesn't appear that things will be changing anytime soon.
Gone are the days of bruising defence and using all of the shot clock. In its place, a high-paced game that features plenty of three point shots.
The reason for the dramatic uptick in scoring can be directly traced to the success that the Golden State Warriors have enjoyed over the past number of seasons. Their phenomenal success has led a number of other teams to emulate their style, which has led to a marked increase in scoring.
Here are the reasons why scoring is up so much this season:
1. Three point attempts.
Teams are taking and making more three point shots. In fact, three point attempts per game are up roughly 10% over last season.
2. Faster pace.
Much like the Golden State Warriors, many teams are looking to blow their way down the floor in an attempt to gain the easy points. This has led to a dramatic increase in possessions and shot attempts per game this year. This increased pace has also helped lead to more three point shot attempts.
3. More fouls.
Referees are attempting to give more space to the league's star players, which has resulted in an increase in free throw attempts. The days of stars getting mercilessly hacked as they drive to the hoop are over - now there is a desire for more offence, and offensively gifted stars are getting more fouled called when they drive to the hoop.
In addition to all of this, the talent in the NBA is arguably greater than ever, with at least a couple dozen players that would quality as bonafide superstars.
-
There will come a time when the Golden State Warriors fade and a new style of play is emulated by other teams in the league, though we aren't there yet.