Tiger Woods Shot 7 Under In Front Nine of 2007 Tour Championship
Published on August 22nd, 2023 4:27 pm EST
Written By:
Dave Manuel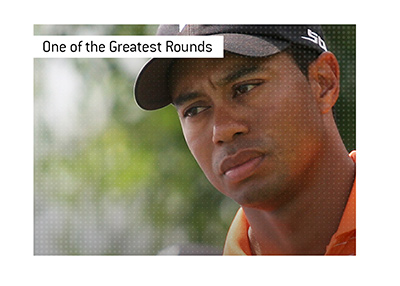 In 2007, Tiger Woods was at the height of his powers, free of health and personal issues.
Woods had a mystique that made him nearly impossible to compete with.
In fact, his competition was usually happy to finish in second place.
Tiger entered every tournament back in 2007 as the CLEAR favorite to win, and the 2007 Tour Championship was no different.
-
The second round of the 2007 Tour Championship ended up being one of the greatest rounds of Tiger's career.
Tiger was even on the round heading into the 4th round, where he went completely ballistic.
Hole 4 - Birdie
Hole 5 - Birdie
Hole 6 - Birdie
Hole 7 - Birdie
Hole 8 - Birdie
Hole 9 - Eagle
Woods finished the front nine with a ridiculous score of 28, or 7 under.
To make things even more impressive, Tiger pulled this off while desperately having to go to the bathroom, as he would sprint off the green after sinking his eagle putt on the 9th hole.
-
Tiger credited his unbelievable front 9 to "luck".
It was more of a combination of luck and Tiger's incredible skill.
Tiger's "luck" included holing out a bunker shot on the 5th hole and pulling a putt on the 7th hole, only for the ball to hit an indentation in the green and bounce into the cup.
In fact, Tiger's massive eagle putt on the 9th hole required a great deal of luck as well, as the ball bounced all over the place before finally falling into the hole.
-
The second half of Tiger's round was much more subdued, as he would finish -8 for the day.
It didn't matter - Tiger would go on to win the tournament by 8 shots.