Tom Brady, Gordie Howe Top The List of Most Impressive Seasons Ever
Published on June 10th, 2023 3:26 pm EST
Written By:
Dave Manuel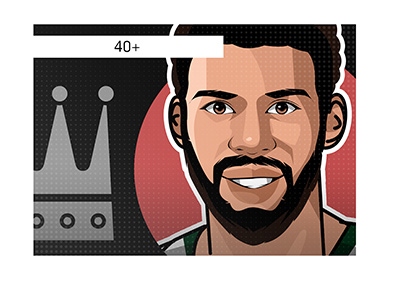 Gordie Howe. Kareem Abdul-Jabbar. Ted Williams. Nolan Ryan. Tom Brady.
What do these five men have in common?
All five men are all some of the greatest players in the histories of their sports, and all five men turned in sublime performances even after reaching the age of 40, which is an age where most professional athletes have long since retired.
Let's take a look at the five greatest single-season performances by a professional athlete ever, in no particular order:
1.
Tom Brady, Age 44.
Tom Brady continued to play at the highest possible level well into his mid 40s.
In fact, one of Brady's best ever seasons came at the age of 44, when he lead the Tampa Bay Buccaneers to a Super Bowl while passing for over 5,300 yards and 43 touchdowns.
Brady was the missing piece of the puzzle in Tampa Bay, and his precision (67.5% completion rate) allowed the Bucs' many weapons to flourish.
2.
Ted Williams, Age 41.
Ted Williams was undoubtedly one of baseball's greatest hitters, if not the very best.
At the age of 41, after a long and distinguished career in Major League Baseball that included two long pauses for military duties, Williams hit .316, with 29 home runs and 72 RBIs.
Truly astonishing output for a 41 year-old hitter.
3.
Nolan Ryan, Age 42.
Nolan Ryan had a number of excellent seasons past the age of 40, though we chose one in particular, which occurred when Ryan was 42 years of age.
That season, at the age of 42, Nolan Ryan put together a record of 16-10, while throwing an unbelievable 301 strikeouts.
301 strikeouts at the age of 42? We'll probably never see that again.
4.
Gordie Howe, Age 49.
At the age of 49 (!), Gordie Howe scored 34 goals for a total of 96 points while playing for the New England Whalers of the WHA.
These are obviously crazy statistics, but here is another one:
That season, Mr. Howe had a plus-minus of +46.
At the age of 49! An absolutely mind-blowing accomplishment for a 49 year-old professional athlete.
5.
Kareem Abdul-Jabbar, Age 40.
Adding Kareem Adbul-Jabbar to this list, as Kareem managed to average 14.6 points per game at the age of 40, despite playing less than 30 minutes per game.
For a "big man" to play into his 40s and still average nearly 15 points per game is absolutely incredible, as big men tend to break down in their 30s.