2004 Emerald Bowl Contained Drive That Lasted Nearly 15 Minutes
Published on November 1st, 2020 12:04 pm EST
Written By:
Dave Manuel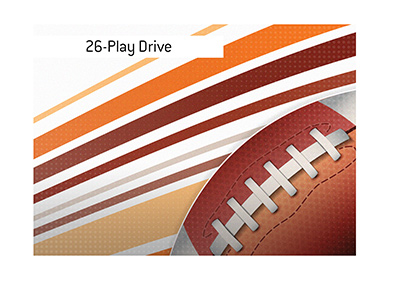 The 2004 Emerald Bowl between the New Mexico Lobos and Navy Midshipmen. This isn't exactly the type of game that you think would hold a place in football's history books.
This relatively unimportant game, however, contains the single longest drive (by time) in the history of football, collegiate or otherwise.
The game, which was won by Navy 34-19, contained a 26-play drive by Navy that lasted for nearly 15 minutes. This clocked in longer than the longest ever NFL drive, which lasted for over 13 minutes.
-
The conditions for the game were wet.
As the field conditions worsened, the early high-scoring affair quickly turned into a slogfest, with only 10 points being scored in the second half.
The infamous drive, which lasted for 14:42, started near the end of the third quarter and lasted until 2:15 of the fourth quarter.
There was nothing particularly unique about the drive. Navy was intent on running the ball, and they managed to convert on a pile of third downs.
There were no particularly big plays either - just 3, 4 and 5 yard gains that stayed inbounds and helped to chew up the clock.
New Mexico, which desperately wanted the ball back, were helpless to stop Navy. Aided by a few timely penalty calls, Navy were able to chew a massive amount of time off the clock.
New Mexico was able to stop Navy right near their goal line, which resulted in a 22-yard field goal. These stops also helped to burn more time off the clock.
-
In the end. bad field conditions, a potent running attack and a less-than-potent running defence enabled Navy to burn almost 15 minutes off the clock.
-
It should be noted that this is the longest OFFICIAL drive in the history of collegiate or professional football. There may be a longer drive that may have occurred in the past, though it is not official.