Odds For How Many Majors Tiger Woods Will Win in 2019
Published on December 10th, 2018 4:57 pm EST
Written By:
Dave Manuel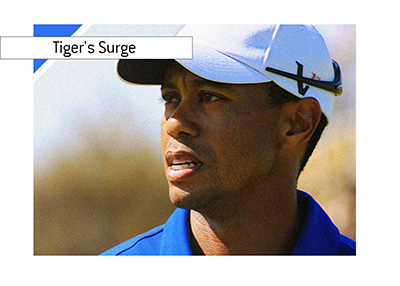 Tiger Woods, after years of inactivity, controversy and seemingly declining play, is back.
2018 was a bounceback year for Tiger Woods, much to the delight of golf fans across the world. There is no question that a healthy and performing Tiger is good for the game of golf, and Tiger's surge in 2018 was a welcome elixir to a game that was struggling with dropping ratings and interest.
The numbers tell the story - in 2018, Tiger had 7 Top 10 finishes and took home over $5.4 million in total prize money. Most importantly, Tiger was able to secure his first victory in a long while, taking down the Tour Championship after close second place finishes in the PGA Championship and Valspar Championship.
Can Tiger win more majors before his career is over? If you asked this question a couple of years ago, the answer almost certainly would have been a resounding no, as it seemed as though his career was over.
Things have changed, however, and the idea of Tiger winning more majors is suddenly quite plausible. Tiger is just three back of Jack Nicklaus on the all-time major list, and many in golf want to see Tiger break the record.
-
A major offshore bookmaker has odds on how many major titles Tiger will win in 2019. Here they are:
0 -350
1 +250
2 +1600
3 +10000
4 +25000
As you can see, the likeliest outcome is that Tiger Woods draws another blank in 2019 when it comes to winning majors.
The second likeliest outcome, and the only other real plausible one according to the oddsmakers, is Tiger winning a single major in 2019. You have to think that Tiger will make at least one serious run at a major in 2019, given the strength of his game in 2018.
-
What do you think? Where would you put your money?