Texas A&M vs LSU Still Holds The Official Record
Published on October 10th, 2020 5:15 pm EST
Written By:
Dave Manuel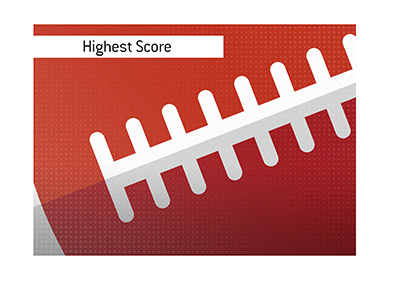 College football records weren't officially recorded until the late 1930s.
For this reason, the October 7th, 1916 game between Georgia Tech and Cumberland isn't officially recognized as the highest scoring football game of all time, despite the fact that there were 222 points scored in the game (Georgia Tech scored each and every one of these points).
In fact, the record for the highest scoring college football game of all time can depend on who you are asking.
Are you including just FBS games?
If so, the November 24th, 2018 game between LSU (led by Joe Burrow) and Texas A&M holds the record, as there were a total of 146 points scored in the 74-72 (Texas A&M won) clash. That game ended up going to seven overtimes, which helped to bolster the score.
If you are including Division II, Division III and FCS games as well, the record belongs to a November 22nd, 2008 game between Abilene Christian and West Texas A&M, which ended up producing a staggering total of 161 points (Abilene Christian won 93-68).
-
Here are the top five highest scoring FBS games of all time:
1. Texas A&M (74) vs LSU (72), 2018
2. Western Michigan (71) vs Buffalo (68), 2017
3. Pitt (76) vs Syracuse (68), 2016
4. Boise State (69) vs Nevada (67), 2007
5. Navy (74), North Texas (62), 2007
-
If you ask me, the 2016 game between Pitt and Syracuse was the most impressive of the bunch, as the game ended in regulation.
The stat lines in this contest were absurd. The two starting QBs in the game combined for nine passing TDs.
Amba Etta-Tawo had five receiving touchdowns.
James Conner rushed for 115 yards and 2 TDs, and caught another TD.
There were 81 points scored in the second half alone.
-
All five of the games listed above deserve a watch if you can find them online.