Tiger Woods, Jim Brown, LeBron James, Jim Ryun, Kobe Bryant Top List
Published on May 26th, 2022 12:18 pm EST
Written By:
Dave Manuel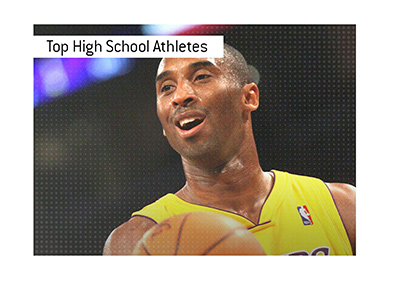 Who was the greatest high school athlete of all time?
The list of awe-inspiring high school athletes is long and contains names of some of the most iconic athletes in the history of sports.
Any list of the greatest high school athletes has to start with these five names:
Tiger Woods
Jim Brown
LeBron James
Jim Ryun
Kobe Bryant
Tiger Woods, for obvious reasons, has to be at the top of the list, as he played in a PGA event while still a sophomore in high school.
Woods set all kinds of records while golfing in high school, as well as winning three straight USGA titles.
LeBron James was obviously a stand-out athlete in high school, as he went straight from high school to the NBA and immediately excelled.
LeBron had NBA teams salivating over him in high school, and proved to be every bit as good as the hype, as he is widely considered to be a top-3 NBA player of all time.
Jim Brown, who is considered one of the best running backs of all time, was a multi-sport star in high school, and was good at EVERYTHING.
Brown earned 13 letters in football, lacross, baseball, basketball and track. In addition to dominating football, Brown set a Long Island record for PPG in basketball (eventually broken by Carl Yastrzemski) and was a practically unstoppable lacrosse player.
Jim Ryun was a high school track star that broke the sub-4 minute mile as a junior in high school, and set records that wouldn't be broken for decades.
Ryun would set world records and eventually competed in the Olympics.
Kobe Bryant, like LeBron James, was also drafted straight out of high school.
His numbers while playing for Lower Merion were jaw-dropping and certainly caught the attention of NBA scouts, while resulted in him being drafted in the first round of the 1996 NBA draft.
-
The list of the top 10 high school athletes ever would also likely include the following names:
Lew Alcindor
Derrick Henry
Lisa Leslie
Wilt Chamberlain
Marion Jones