2014 World Cup Brazil - Walk Again Project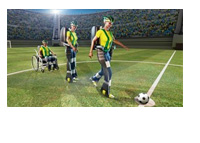 The 2014 FIFA World Cup Brazil opening game kick-off will be taken by a paraplegic Brazilian teenager, using brain signals to move his/her robotic body suit.
The Walk Again Project is a non profit international collaboration among some of the world's most prestigious Universities, led by the Brazilian neuroscientist Miguel Nicoletis (stationed at the Duke University Center for Neuroengineering), whose goal is to display the technology that restores movement to people who have suffered brain lesions or neuromotor diseases.
So, on Thursday, June 12th, 2014, when the host nation, Brazil, are set to play Croatia in the opening game of the 2014 World Cup tournament, the opening kick will be taken by a paralyzed boy or a girl, who will get up from his/her wheelchair, walk towards the ball in a robotic suit (the Exoskeleton) and kick the ball.
Supposedly, the technology works, and it is being tested on ten or so paraplegic teenagers, out of which one will be selected to attempt the kick. The only concern at present time are the audience cellphone signals, which may or may not interrupt the transmission between the teenager's brain and the robot-body.
--
You can find more information about the project on the Brazilian Federal Government - 2014 FIFA World Cup website by clicking
here
.
The Duke immersive Virtual Environment - Walk Again Project page can be located
here.
--
Below is the Walk Again Project - World Cup 2014 Youtube video explaining how it all works:
--
Looking forward to seeing this!
--
Update: Here it is!