Perth SuperNight Race - Betting Odds, Event Details, History and Records
Date:
2024.04.28 - 2024.04.30
Contest:
F1
Location:
Wanneroo Raceway - Perth, Australia
Everybody loves supercars with glossy exteriors, thrilling speeds, and immaculate engines. There is a great following of supercars among car enthusiasts and fanatics. There is a special Supercars championship organized in Australia which focuses on touring car racing and operates under FIA. Among these supercar races, Perth SuperNight is one of the most prestigious races, which is annually held in Western Australia. The competition is currently known as Bunnings Trade Perth SuperNight, with Bunnings Trade being the title sponsor for the event.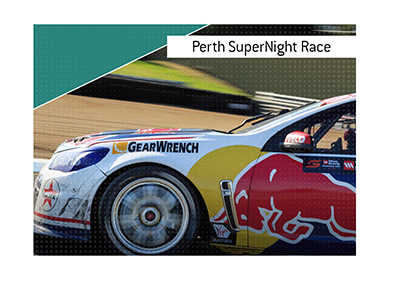 History:
Prior to the supercars championship, an Australian Touring Car Championship was held. Wanneroo Park hosted its first event back in 1973. Allan Moffat was the winner of the Inaugural edition in 1973.
This was also the first-ever touring car racing competition held in Western Australia. Back then, it was just a touring car racing competition that featured matches during the days. In 2019, the competition switched to night races as the races were scheduled at night for the very first time.
Venue and Track:
The competition is annually held at Wanneroo Raceway in Western Australia. The racing track is named Wanneroo Raceway because its located in Wanneroo, a suburban area of Perth. The circuit has a total length of 2.411km. In total, there are 7 turns across the entire length of the circuit. In total, there is a 120-kilometer sprint race and a 200-kilometer race.
Format and Racing Time:
As the name suggests, the competition is held at night, with races taking place over a period of three nights. The races take place between Thursday and Saturday, with a thirty-minute practice session before the start of proceedings on each night. Friday hosts the qualifying session, which decides the grin line-up for the 120-kilometer sprint race. This is followed by a longer 200-kilometer race on Saturday.
2023 Champion:
Brodie Kostecki from Erabus Motosport team, driving a Chevy Camaro ZL1-1LE won the 2023 edition of the Perth SuperSprint race.
Past Winners:
Drivers:
Among Drivers, the Australian racing car driver Craig Lowndes has been the most successful driver. He holds the record for most wins at the competition with 6 wins. His 6 titles at the competition came in 1996, 1998, 1999, 2000, 2015, and 2016. Another Australian racer Peter Brock has been particularly successful on the stage, with 5 wins in 1978, 1979, 1981, 1990, and 1997. Other than them, Allan Moffat (the winner of the inaugural race), Jamie Whincup, and Scott McLaughlin have won the competition three times each. Among them, Scott McLaughlin has enjoyed great success in recent years. McLaughlin won three consecutive races between 2017-19.
Teams:
On a team basis, DJR Team Penske has been the most successful team at Perth Super night with 7 titles. They are followed by the Holden Racing Team and Triple Eight Race Engineering. Both these teams have won 6 titles each. In addition to these teams, Gibson Motorsport and Holden Dealer Team have won 4 titles each.
Manufacturers:
Among manufacturers, Holden and Ford lead the way by a huge margin. Holden's cars have won the race 21 times, while Ford has been successful on 16 occasions. The next best is Nissan, with only 3 wins. This shows how massive a difference the other two manufacturers have created and enjoyed.
Perth Supernight 2024:
The Perth Supernight race will take place on April 28th - 30th. The betting odds will be posted closer to the event date.
-
View more
Sporting Contests