Juventus vs. AC Milan - Game Preview - October 6th, 2013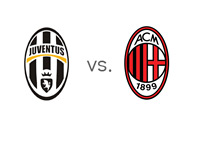 This should be an awesome match!
Juve are in third place in the league with five wins and one draw (vs. Inter).
Milan are in the middle of the tables with two wins, two draws and two losses.
In the UEFA Champions League, Juve just had a tough match with Galatasaray at home which ended in a 2-2 draw. Milan drew 1-1 vs. Ajax in Amsterdam. Juventus have two points out of two games in the UCL and they have to face Real Madrid twice next. AC Milan have four points out of two matches.
Ok. So it isn't the most impressive start to the season for these two teams, but a Juventus vs. Milan match will always get the attention.
Here are the odds:
Juventus: 8/15
Draw: 3/1
Milan: 5/1
Juve are the favourites to win. A 100 € bet on the Old Lady could return 53€ in profit, while the same bet on AC Milan could return 500 € in profit.
Mario Balotelli is out of this match due to a suspension for Milan.
Here is a great article about
Andrea Pirlo
from ESPNFC.com
Enjoy the game!
--
Match Highlights: