Evian and Lorient Battle for a Spot in the Finals of the French Cup (Coupe de France) - Game odds and Betting Preview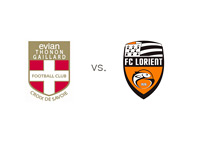 Evian TG FC are hosts to FC Lorient in the Coupe de France semi-final match on Wednesday, May 8th, 2013.
The winner of this match will play either Troyes or Bordeaux, the other two semi-finalists who were supposed to play yesterday, but their match got postponed.
Evian and Lorient have already met twice this season in the league and the score in the first match was 1-1, while in the second match Lorient won at home with the score of 2-1.
The odds-makers are predicting a close match and slightly favouring Lorient to advance to the finals.
Evian TG 15/8
Draw 11/5
Lorient 29/20
A $100 bet on Evian returns $187 in profit, while the same bet on Lorient returns $145 in profit, if successful.
Evian Thonon are in 18th place in Ligue 1 with three matches to go until the end of the season and in danger of being relegated to the lower division. Lorient on the other hand are sitting comfortably in 8th place.
Evian lost their last three league games to Troyes, PSG and Nancy, while Lorient lost their last two to Sochaux and Marseille and won on April 21st vs. Toulouse.
If the upcoming Coupe de France match ends in a draw there will be overtime after which, if necessary, the penalties will decide who goes to the final.
In addition to winning the trophy, the winner of the Coupe de France qualifies to the UEFA Europa League.
This should be an entertaining match!