Bayern Munich vs. Borussia Dortmund Odds - DFB Pokal Quarter Final
On Wednesday February 27th at the Allianz Arena in Munich Bayern are hosts to Borussia Dortmund in the DFB Pokal (German Cup) quarter-finals. This is a huge game! Two German titans meet again.
DFB Pokal is a one match elimination contest and this tie is personal. Last year Borussia Dortmund beat Bayern in the final 5-2 in addition to taking the Bundesliga title. This season, Bayern are on a mission. They are 17 points ahead of 2nd place Borussia in the league and they are destroying everything in sight in Germany and in Europe. When the two teams met in the league in Munich on December 1st the score was 1-1. Borussia believe they are one of the very few teams that can give Bayern a game this year, and they are right.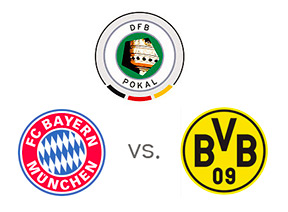 Bayern Munich are so strong this year. Their last four games speak for themselves. On February 9th they beat Schalke at home 4-0. May we remind you that Schalke are in the round of 16 in the UEFA Champions League this year with a favourable score to proceed to the quarter-finals after the first leg vs. Galatasaray (1-1). On Feb 15th Bayern beat Wolfsburg 0-2, then on Feb 19th they beat Arsenal 1-3 in London in the UEFA Champions League. In their most recent match, on Feb 23rd, Bayern beat Werder Bremen 6-1 at home. The Alianz Arena in Munich has been sold out for every Bayern match for a very long time.
Borussia are also very strong this year. In the UEFA Champions League they finished 1st, undefeated, out of the hardest group in the competition ahead of Real Madrid, Ajax and Manchester City. They are big favourites to advance to the quarter-finals after drawing with Shakhtar 2-2 in Donetsk in the 1st leg. Borussia have since beat Frankfurt 3-0 at home and tied Monchengladbach 1-1 away.
To Qualify
Bayern 2/5
Borussia 2/1
Bayern are favourites. A $100 bet on Bayern could bring in $40 in profit if they won while the same bet on Borussia would bring in $200 in profit.
Bayern and Borussia are easily among the top five teams in Europe this year and this game promises to be amazing.
Make sure you tune in. Everyone in Germany will.