Game Preview - Roma vs. Man City - UEFA Champions League - Matchday 6
AS Roma host Manchester City in the last round of UEFA Champions League group stage on Wednesday, December 10th, 2014. The two teams will be battling for a spot in the tournament's round of 16.
The present situation in Group E is as follows:

As far as what each team needs in order to qualify, here is the lowdown straight from UEFA.com:
"Roma will qualify with a win and will also advance if they draw and CSKA Mosvka hold FC Bayern München in the other Group E game. If CSKA lose, Roma will progress with a goalless draw but not a score draw.
City must win and hope that CSKA do not, or get a score draw and hope CSKA lose. If they lose, they are out of Europe altogether."
It is down to the wire. Could be a great game!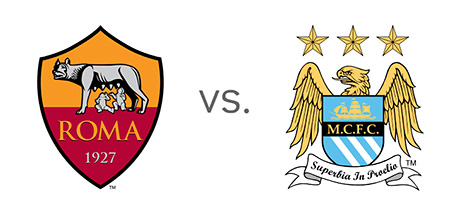 Roma blew it in their last match vs. CSKA in Moscow, where they had the lead until the last minutes, only to settle for a 1-1 draw. Domestically, they are second in the Serie A tables, three points behind Juventus. On the weekend, they drew 2-2 with Sassuolo at home.
Since the Sergio Aguero heroics vs. Bayern Munich on Matchday 5, Manchester City are an in-form team. They beat Sunderland 4-1 away last Wednesday and followed that up with a 1-0 home victory vs. Everton. Bad news for City is that Aguero walked off injured after only a few minutes of the Sunday's game. He could be out for months according to the reports.
The odds for the upcoming game at Stadio Olimpico are:
Roma: 7/5
Draw: 5/2
Man City: 19/10
To Qualify:
Roma: 10/11
City: 1/1
CSKA: 16/1
--
The home side, Roma, are the favourites to win the game and advance to the knock-out stage of the tournament.
In their first encounter, at the Etihad Stadium in Manchester on September 30th, 2014, the two teams drew 1-1.
Let's see how things play out at Stadio Olimpico on Wednesday.
Will it be Gervinho, Totti and Pjanic or will it be Dzeko, Jovetic and Nasri?
Looking forward to this one!
--
City are also without Yaya Toure on Wednesday, as he is suspended for his antics in the game vs. CSKA Moscow.