Clemson, Alabama, Georgia Among Favourites To Win
Published on January 8th, 2019 9:54 am EST
Written By:
Dave Manuel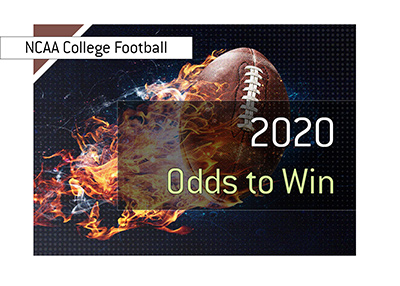 For the second time in three years, Clemson defeated Alabama last night to win the NCAA College Football Championship.
Clemson was led to the title by Trevor Lawrence, the 19 year-old true freshman who is going to be leading the Clemson offence for a minimum of two more years, as he won't be eligible for the NFL draft until 2021. This puts Clemson in great position to win another title or two over the next couple of years, as Lawrence is already likely college football's best player and should only get better.
Alabama, for their part, will remain one of the top destinations for recruits and they should likely be one of college football's best teams next year. Some of their mystique has been wiped away, however, thanks to Dabo Swinney and the Clemson Tigers. Clemson will have all of the momentum heading into next season, and their tremendous success over the past couple of years should provide a big boost to their recruiting class in future years.
-
Let's take a look at the current odds to win the 2020 NCAA College Football Championship:
Clemson, +175
Alabama, +250
Georgia, +550
Ohio State, +1200
Penn State, +1200
Michigan, +1400
Auburn, +2500
Miami, +2500
Texas, +2500
Wisconsin, +2500
LSU, +3000
Michigan State, +3000
Oklahoma, +3000
Washington, +3000
Florida, +4000
Florida State, +4000
Notre Dame, +4000
Texas A&M, +4000
-
Clemson and Alabama are the two obvious choices to win the title, though there is some decent value if you dig a bit deeper.
Texas, for instance, had a resurgent season and could be a legitimate top 5 team next year.
Michigan was a playoff team until the last week of the season and will likely benefit from another strong recruiting class. While they are certainly not in the tier of an Alabama or Clemson, Harbaugh and company could break through next year.