Al Iaquinta Small Favourite To Defeat the "Cowboy"
Published on April 28th, 2019 12:46 pm EST
Written By:
Dave Manuel
Click Here To Bet on Cerrone vs Iaquinta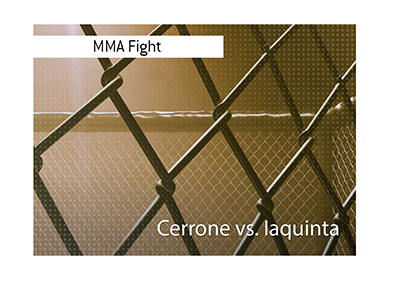 Donald "The Cowboy" Cerrone likely can't help feeling a bit disappointed right now.
A few months ago, there was legitimate talk of Cerrone fighting Conor McGregor, likely this summer. This would be the big money fight that would likely help Cerrone establish a nice retirement fund for himself.
The rumor is that the fight fell apart after the UFC insisted that Cerrone/McGregor be the co-main event of a card, like UFC 239. According to multiple reports, McGregor and his team turned down the fight, as they believe that McGregor should only be main eventing cards. The UFC likes to have a title fight in the main event of all of their PPV cards, and Cerrone/McGregor wouldn't have been for a title.
After those talks fell apart, the notoriously active Cerrone accepted a fight against Al Iaquinta on May 4th in Ottawa, Canada. The winner of this fight will move closer to a title shot, while the loser will fall down a very stacked Lightweight ladder.
-
Donald Cerrone is a bit of a tough fighter to get a handle on. When he looks good, he looks very, very good. When he is off, he tends to get destroyed.
Al Iaquinta is a tough, well-coached opponent who has a very well-rounded game. Iaquinta has been in some wars and will likely be tough for Cerrone to knock out.
-
In order to Cerrone to win this win, he will need to pressure Iaquinta early and often and keep the fight standing. Cerrone is certainly comfortable on the ground, though Iaquinta has the wrestling edge and will likely look to grind out Cerrone on the mat.
In order to Iaquinta to win, he will need to avoid Cerrone's kicks and look to use his wrestling to take Cerrone to the ground. Cerrone is a black belt in BJJ, so Iaquinta will need to look to score takedowns while avoiding Cerrone's submissions.
Iaquinta will not want to get into a standing war with Cerrone, though don't be surprised if he tries to tie up the "Cowboy" and use some dirty boxing to inflict damage. Cerrone is at his best when he has some space to use his kicks.
-
As of this moment, Iaquinta is the favourite to win. Let's look at the current betting odds for this fight, courtesy of Bet365:
Source: Bet365
Time Stamp:
April 28th, 2019 12:38 pm EST
Odds Subject to Change
Al Iaquinta, 1.66
Donald Cerrone, 2.25
According to these odds, Iaquinta is the slight favourite to win, though Cerrone is close to a coin flip.