The Story of Vontae Davis' Unusual "Retirement"
Published on June 11th, 2022 12:24 pm EST
Written By:
Dave Manuel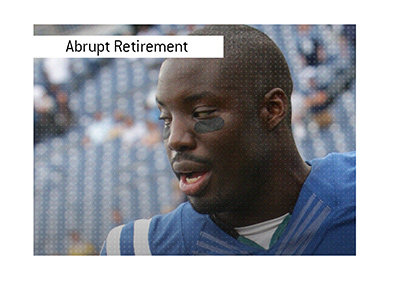 During a September 16th, 2018 game against the Los Angeles Chargers, Buffalo Bills' cornerback Vontae Davis decided that he'd had enough and was going to retire.
The unusual part of this story? He made his decision DURING the game.
Davis, who was in his 10th season in the NFL at the time, was two games into a one-year, $5 million contract with the Bills ($3.5 million guaranteed).
During the game, Davis informed his coach, Sean McDermott, that he was "done" and would no longer be playing in the game.
McDermott was confused - did Davis mean that he wouldn't be playing more today, or did he mean that he was done in general?
-
Davis, as you likely now know, meant that he was retired.
In fact, he left the stadium at halftime, much to the derision of his teammates, who felt that he was quitting on them.
Davis would later say that football was no longer what he was meant to be doing, and that abruptly leaving was "therapeutic".
-
Davis was a very good player.
The Miami Dolphins took Davis in the first round of the 2009 NFL Draft, and he would end up making two Pro Bowls (2014, 2015).
The Miami Dolphins gave up on Davis in 2012, trading him away to the Indianapolis Colts, and this is where his career would flourish.
Davis would receive a four-year, $39 million contract from the Colts on March 11th, 2014, and this would immediately pay dividends for the team, as Davis would make back-to-back Pro Bowls.
Injuries would start to take a toll on Davis, and he would ultimately leave the Colts and sign for the Buffalo Bills in 2018.
-
As mentioned, Davis would abruptly retire during a 2018 game against the Los Angeles Chargers.
Davis was adamant the entire time - his heart wasn't into football anymore, and he was done with the game.
-
Unlike Antonio Brown, who famously stormed off the field in the middle of a game, Davis at least quietly withdrew himself from the game and left.
His teammates, as mentioned, were angry at the time, but they seemed to begrudgingly accept the decision after a while.