One of Robert Kraft's Super Bowl Rings Sits in Kremlin Library
Published on August 7th, 2022 1:40 pm EST
Written By:
Dave Manuel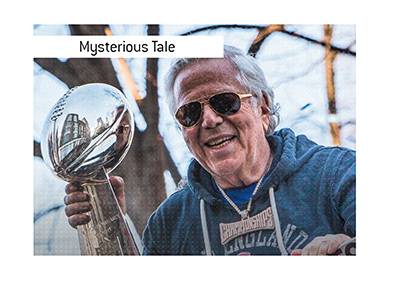 On February 6th, 2005, the New England Patriots added another Super Bowl win to their collection when they defeated the Philadelphia Eagles 24-21.
It was yet another ring for team owner Robert Kraft, though within a matter of months, he would lose one of his rings to Vladimir Putin.
-
It was 2005, and a delegation of prominent businessmen travelled to Russia to attempt to "stimulate commerce" between the United States and Russia.
This delegation included Robert Kraft, the owner of the NFL's New England Patriots.
Who would have thought that this meeting would lead to the Bush Administration needing to step in to potentially avoid an international incident?
-
During the meeting with Putin, Robert Kraft took off one of his Super Bowl rings and handed it to Vladimir Putin.
According to Kraft, Putin looked it over, placed it on his finger and eventually put it in his pocket. Three members of his security detail surrounded him, and Putin was whisked off.
Kraft maintains that he simply wanted to show Putin the ring, and that it was in no way a gift. Kraft also says that he put out his hand to get the ring back.
Russia, on the other hand, maintained that it was clearly a gift, and that Kraft had been given a gift in return.
Kraft had an emotional attachment to the ring and wanted it back.
-
The news ran with the story that Putin had "stolen" the ring, and this dismayed the Bush Administration, which was trying to strengthen ties with Russia at the time.
In fact, the Bush Administration would end up calling Kraft.
Can you just say it was a gift? the Bush Administration asked.
Kraft wasn't happy but went along with the request, and would end up putting out a statement that read:
"President Putin, a great and knowledgeable sports fan, was clearly taken with its uniqueness. I decided to give him the ring as a symbol of the respect and admiration that I have for the Russian people and [his] leadership."
-
In 2013, Robert Kraft would walk back the statement during a speech, saying that he didn't intend to give the ring to Putin as a gift.
Russia immediately responded, stating that Kraft's comments were "weird" and that it was clearly a gift.
-
Robert Kraft has never gotten the ring back, and it still sits in the Kremlin Library to this day.