Kansas City Chiefs, Baltimore Ravens Remain Favourites To Win Super Bowl
Published on March 29th, 2020 1:32 pm EST
Written By:
Dave Manuel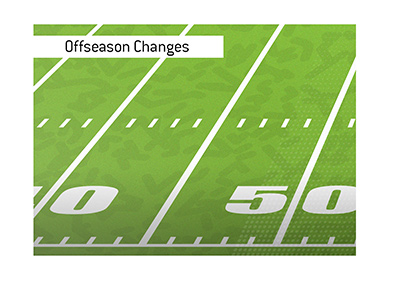 Free agency in the NFL, undeterred by the ongoing global crisis, is now drawing to a close, with most of the high-profile free agents having found new spots to call home.
There are some big changes as we head into the NFL draft in the second part of April. DeAndre Hopkins is now with the Arizona Cardinals.
Cam Newton is still without a home, while Teddy Bridgewater is the new starting QB of the Carolina Panthers.
And, in the most noteworthy move, Tom Brady has found a new home with the Tampa Bay Buccaneers.
-
What have these moves done to the Super Bowl LV odds?
The top of the odds more or less remain the same, as the Kansas City Chiefs (defending champions) and Baltimore Ravens remain the favourites to win the Super Bowl.
The biggest change at the top? The New England Patriots, who are usually the favourites to win heading into every season, are now just 17.00 to win the Super Bowl.
After all, the Patriots still don't have a starting QB, plus they have some very porous holes in their offence. As we saw last season, Tom Brady didn't have much in the way of weapons, and the Patriots don't seem to have done much to improve things heading into this year.
The Tampa Bay Buccaneers, who have been mediocre for long stretches of the past few decades, have the same odds to win the Super Bowl as the Patriots. Who would have predicted that at the end of last season?
The Pittsburgh Steelers will be healthy heading into next season, and they are currently 19.00 to win the Super Bowl. When healthy, the Steelers certainly possess the weapons to do some damage in the playoffs.
Another interesting team is the Buffalo Bills, who only got better this offseason. The Bills are 23.00 to win the Super Bowl, and will likely be contending to win the AFC East division title this season.
One other big change - the Los Angeles Rams, who have been one of the best teams in football over the past couple of seasons, are now just 26.00 to win the Super Bowl, as salary cap woes forced them to cut some of their best players, including Todd Gurley. That is a stunning reversal from a couple of years ago, when Gurley was easily the league's best offensive player.
-
Here are the current Super Bowl LV betting odds, courtesy of Bet365:
Source: Bet365
Time Stamp:
March 29th, 2020 1:23 pm EST
Odds Subject to Change
Kansas City Chiefs, 7.00
Baltimore Ravens, 8.00
San Francisco 49ers, 9.00
New Orleans Saints, 12.00
Green Bay Packers, 17.00
New England Patriots, 17.00
Philadelphia Eagles, 17.00
Tampa Bay Buccaneers, 17.00
Seattle Seahawks, 19.00
Pittsburgh Steelers, 19.00
Dallas Cowboys, 21.00
Buffalo Bills, 23.00
Minnesota Vikings, 26.00
Los Angeles Rams, 26.00
Indianapolis Colts, 29.00
Tennessee Titans, 29.00
Cleveland Browns, 29.00
Los Angeles Chargers, 29.00
Chicago Bears, 34.00
Las Vegas Raiders, 34.00
Houston Texans, 34.00
Atlanta Falcons, 41.00
Denver Broncos, 41.00
Arizona Cardinals, 41.00
Carolina Panthers, 67.00
Miami Dolphins, 67.00
New York Jets, 67.00
New York Giants, 67.00
Jacksonville Jaguars, 67.00
Detroit Lions, 81.00
Cincinnati Bengals, 81.00
Washington Redskins, 101.00