Rams, Chiefs, Saints, Patriots Current Favourites To Win Super Bowl LIV
Published on February 5th, 2019 9:10 pm EST
Written By:
Dave Manuel
Click Here To Bet on Super Bowl LIV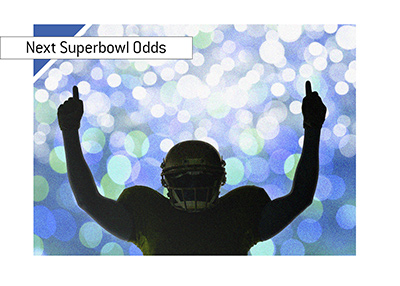 On February 2020, the AFC and NFC Champions will converge on the Hard Rock Stadium in Miami Gardens, Florida to play Super Bowl LIV.
Will Tom Brady and company manage to navigate their way to yet another Super Bowl, or will there will be some fresh blood representing the AFC?
Will the New Orleans Saints brush off the controversy of their loss to the Rams in the NFC Championship and return to the Super Bowl, or will the Rams get to the big show for the second year in a row?
The teams that are considered the best in the NFL - the Patriots, Rams, Chiefs and Saints - all have the best odds to win Super Bowl LIV. This is unsurprising given that all four teams are expecting to have their nucleuses intact when the regular season kicks off, barring perhaps the retirement of Gronk.
Here are the current betting odds to win Super Bowl LIV in 2020:
Source: Bet365
Time Stamp:
February 5th, 2019 9:09 pm EST
Odds Subject to Change
LA Rams, 8.00
KC Chiefs, 8.00
New Orleans Saints, 8.50
New England Patriots, 8.50
Los Angeles Chargers, 13.00
Pittsburgh Steelers, 15.00
Chicago Bears, 15.00
Philadelphia Eagles, 17.00
Minnesota Vikings, 21.00
Indianapolis Colts, 21.00
Dallas Cowboys, 21.00
Green Bay Packers, 23.00
Seattle Seahawks, 26.00
Baltimore Ravens, 26.00
Atlanta Falcons, 29.00
Houston Texans, 29.00
San Francisco 49ers, 34.00
Cleveland Browns, 41.00
New York Giants, 41.00
Carolina Panthers, 451.00
Tampa Bay Buccaneers, 51.00
Jacksonville Jaguars, 51.00
Tennessee Titans, 67.00
Washington Redskins, 81.00
Arizona Cardinals, 81.00
Buffalo Bills, 81.00
Denver Broncos, 81.00
Detroit Lions, 101.00
Cincinnati Bengals, 126.00
New York Jets, 126.00
Oakland Raiders, 126.00
Miami Dolphins, 126.00
The top teams are obvious - here are some potential dark horses:
Indianapolis Colts - with a healthy Andrew Luck, a much improved O-line and Marlon Mack, could they be contenders?
Houston Texans - could Le'Veon Bell end up in Houston? If so, the Texans suddenly have an explosive offence and a solid defense that is anchored by JJ Watt.
Jacksonville Jaguars - if the Jags can find a competent QB and can get Leonard Fournette back on track, they could see themselves returning to their glory of a couple of years ago quite quickly.
Tennessee Titans - the Titans have a very solid campaign this past season. They could be a reasonable dark horse play at 67.00.