Ron Hextall's Penalty Minutes Record Will Likely Stand Forever
Published on May 26th, 2023 1:44 pm EST
Written By:
Dave Manuel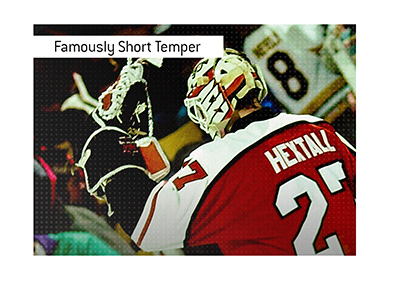 In his first three seasons in the NHL, goaltender Ron Hextall was an absolute savage.
In his first three seasons in the league, Hextall notched 89, 104 and 113 penalty minutes, respectively.
After his third season in the NHL, Hextall toned down his antics considerably, notching a total of just 24 penalty minutes over the following two seasons.
At that point, however, it was already too late - Hextall had made his reputation as one of the craziest goaltenders in the history of the NHL.
-
Hextall's 113 penalty minutes in the 1988-89 (Philadelphia Flyers) is a record for a goaltender in a single season, and there is virtually no chance that this record is ever broken.
Hextall was fond of leaving his net to play the puck, and this would often put him into situations where he was tangling with the opposing team.
Hextall had five fights in his NHL career, which is an astonishingly high number for a goaltender.
In his rookie season in the NHL, Hextall had two fights - one against A. Chevrier, and one against J. Jackson.
In his third season in the NHL, Hextall got into a memorable fight against Chris Chelios.
-
Ron Hextall had a famously short temper and would have no trouble seeking retribution against opposing players.
In the case of his fight against Chris Chelios, for instance, Hextall came charging out of his net to attack Chelios, and ended up receiving a major penalty for it.
In addition, Hextall received a large number of 10 minute misconducts over his career, many resulting from leaving his crease to battle an opposing player.
-
Hextall was beloved by Philadelphia's fans for his antics, and he continues to be one of the most popular Flyers players of all time.
If you were an opposing player and were anywhere around Hextall's crease, you could never feel safe, as Hextall was more than willing to challenge you.
-
In this day and age, goaltenders are protected by referees and teammates alike.
In those days, goaltenders were much more likely to get involved in skirmishes, and Ron Hextall led the charge in that record.