What Was George Allen Thinking?
Published on April 27th, 2022 12:16 pm EST
Written By:
Dave Manuel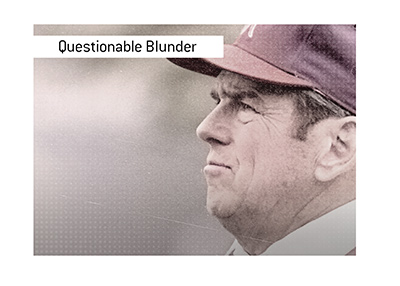 In this day and age, dealing the same draft pick twice to different teams would be impossible.
The NFL employs people who will make sure that all of the details of a trade are accurate and correct, and that the teams actually have the assets that they are trying to deal.
"Phoning it in" is when teams call the NFL to let them know about a trade. It's a process to make sure that everything is correct, but it wasn't always like this.
-
Back in 1973, there was no "phoning" in trades.
Did Washington Redskins General Manager George Allen try to exploit this, or did he make two honest mistakes when he dealt the same picks to two different teams TWICE in the same draft?
It started when Allen picked up the phone and traded the Redskins second round pick of the 1973 NFL draft to the New York Jets for Verlon Biggs.
A short time later, Allen picked up the phone AGAIN and dealt the SAME second round pick (which no longer belonged to the Redskins) to the Los Angeles Rams for Richie Petibon.
Then, in the same draft, Allen did it again - he traded the Redskins' 3rd and 4th round picks to the Buffalo Bills for Ron McDole, and then sent the same picks to the San Diego Chargers for Speedy Duncan.
So, Allen received four players for the 2nd, 3rd and 4th round picks. The only problem? Allen had dealt the three picks to TWO DIFFERENT TEAMS.
Again - there was no central office that teams called in trades to back in the day. Instead, teams would make a note in a ledger, and that was that.
In fact, the NFL didn't realize what the Redskins had done until the 1974 NFL draft, when two sets of teams claimed ownerships of the two sets of picks that the Redskins had traded away.
-
Needless to say, Commissioner Pete Rozelle was furious and didn't accept the explanation that it was an honest mistake.
Rozelle noted that the same thing had happened when Allen was coaching the Los Angeles Rams.
The Redskins were fined draft picks and $5,000, which was a very sizeable fine at the time.
This "gaffe" would not stop George Allen from being admitted to the Pro Football Hall of Fame in 2002.