Drew Bledsoe Leads with 70 Pass Attempts
Published on January 3rd, 2022 10:08 pm EST
Written By:
Dave Manuel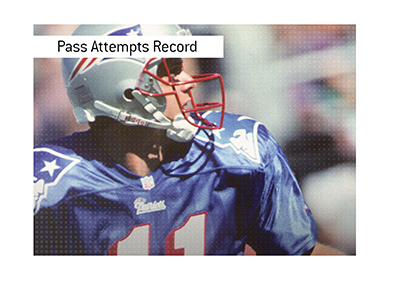 What is the record for the most passing attempts in a single NFL game?
That record belongs to Drew Bledsoe, formerly of the New England Patriots, who attempted an eye-popping 70 passes in a game against the Minnesota Vikings on November 13th, 1994.
Bledsoe's number was helped by the fact that the game went to overtime, as the Patriots ended up winning by a score of 26-20.
Bledsoe had a very good outing that day, as his stat line ended up looking like this:
45-70, 426 yards
3 passing TDs
The Patriots didn't have much in the way of a rushing attack, as they only had Marion Butts and Leroy Thompson as their two running backs.
Butts and Thompson combined for just 10 rushes and 39 yards on the day as the Patriots relied on their passing attack to defeat the Vikings.
-
Five quarterbacks have attempted at least 68 passes in a single game - they are:
1. Drew Bledsoe
70 Attempts
November 13th, 1994
2. Vinny Testaverde
69 Attempts
December 24th, 2000
3. Jared Goff
68 Attempts
September 29th, 2019
4. Jon Kitna
68 Attempts
December 30th, 2001
5. George Blanda
68 Attemps
November 1st, 1964
-
The vast majority of the high passing attempt games have come over the past 20 years, as many teams have abandoned the "old school" methods of pounding the football on the ground.