Ray Nitschke's Famous Helmet Still Sits in Packer Hall of Fame
Published on September 14th, 2023 11:42 am EST
Written By:
Dave Manuel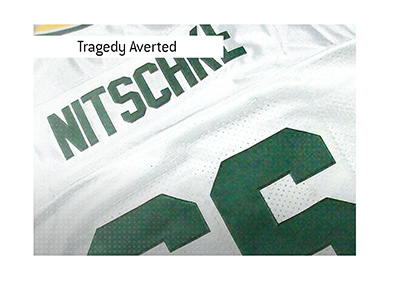 If you visit the Packer Hall of Fame in Green Bay, Wisconsin, you will see the helmet that famously saved Ray Nitschke's life.
The helmet has a big hole where a screw pierced it - the screw that was attached to the 1,000 pound coaching tower that fell on top of Nitschke.
-
Ray Nitschke, who played middle linebacker for the Packers over the entirety of his 15 year career, is one of the best players in the history of the Green Bay franchise.
Nitschke won seven titles with the Packers - five NFL championships, as well as two Super Bowls.
Over the course of his career, Nitschke was a first-team All-Pro twice, and a second-team All-Pro five times.
Nitschke was known for his toughness, and there was no better example of this toughness than September 1st, 1960.
-
The Packers were practicing on their Oneida Street field.
It was a stormy day, complete with torrential rain and violent gusts of wind.
One particularly violent gust of wind managed to topple a 1,000 pound, 15-foot coaching tower.
Unfortunately for Nitschke, the tower crashed down right on top of him.
Most of Nitschke's teammates had their helmets off at the time, but Nitschke hadn't wanted to get his head wet, so he left his on.
This saved his life.
A screw that was attached to the tower penetrated the helmet, though it didn't touch Nitschke's head.
Instead of dying instantly, Nitschke got up and continued to practice.
Coach Vince Lombardi knew that Nitschke would be fine, as he was one of the toughest players on the team, and practice continued.
Nitschke smiled and continued to practice as well.
-
A potential tragedy was averted simply because Ray Nitschke didn't want to get his head wet.