Elusive 158.3 QBR Has Been Accomplished 78 Times
Published on December 29th, 2021 10:56 am EST
Written By:
Dave Manuel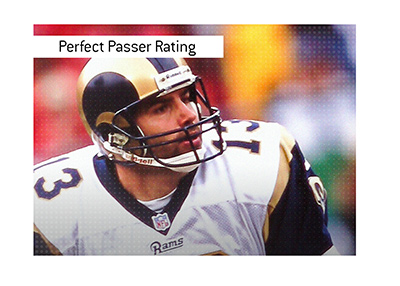 Since the start of the NFL, the perfect passer rating of 158.3 has been accomplished a total of 78 times.
While the QBR didn't start getting tracked until 1971, we are able to apply the rating to games going back to the start of the NFL.
-
First off - how does a quarterback accomplish a perfect passer rating of 158.3?
It's not easy - these four things all have to happen:
1. Post a completion percentage of at least 77.5%
2. Throw for at least 12.5 yards per attempt
3. Throw at least 1 touchdown for every 8.421 attempts
4. Throw zero interceptions
So, quarterbacks have to have a very high efficiency game that includes a number of longer completions and touchdowns. There can be no interceptions and a healthy amount of touchdowns relative to attempts.
-
The first player to ever record a perfect passer rating?
That would be Ray Mallouf, who accomplished the task on October 17th, 1948.
The last player to have a perfect rating of 158.3? Tom Brady, who accomplished the feat on December 26th, 2020. In that game, Brady had a stat line of 22-27 with 348 passing yards and 4 passing TDs.
-
A number of players, including Peyton Manning and Kurt Warner, have had multiple 158.3 scores over the course of their careers.
Jared Goff had the most ever passing yards in a 158.3 game, as he passed for 465 yards on September 27th, 2018.
Nick Foles had 7 passing touchdowns in a 158.3 game on November 3rd, 2013. This remains the record for most passing touchdowns in a perfect passer rating game.