Peyton Hillis Went From Emerging Superstar to Irrelevant In a Year
Published on May 27th, 2022 2:20 pm EST
Written By:
Dave Manuel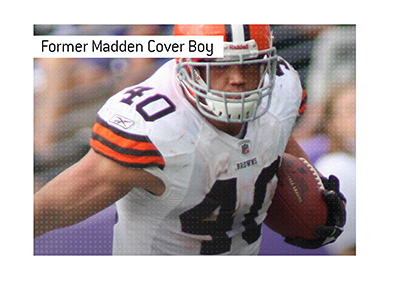 2010 was an amazing season for Cleveland Browns running back Peyton Hillis.
After being traded from the Denver Broncos (along with a sixth round pick) to the Cleveland Browns for quarterback Brady Quinn, Hillis soared up the Browns depth chart and quickly became the key cog of the Browns offense.
In his third year in the league, Hillis rushed 270 times for 1,177 yards and 11 touchdowns.
In addition, Hillis caught 61 passes for 477 yards and 2 touchdowns.
People laughed at the Hillis for Quinn trade - how could the Browns have hoodwinked the Broncos so badly? Didn't the Broncos see that Hillis was a superstar, ready to bust loose?
A few months after the conclusion of the season, Hillis was announced as the newest cover athlete for Madden NFL 12, beating out the likes of Aaron Rodgers, Matt Ryan, Ray Rice and Michael Vick.
Hillis had arrived and the Browns had seemingly acquired a potential superstar for practically nothing.
-
The 2011 season went about as poorly as it possibly could have for Hillis, as he managed to aggravate both team management and his teammates.
To start, Hillis wanted to parlay his 2010 season into a contract extension, though the two sides couldn't agree to a deal.
At the advice of his agent, Hillis sat out the third week of the season with strep throat.
After that, multiple injuries to his hamstring reportedly frustrated his teammates.
Just two months into the season, media reports were already circulating that the Browns were ready to move on from Hillis.
Thanks to a late season burst, Hillis managed to finish with 587 rushing yards, though the bloom was off the rose.
Hillis stated that he wanted to stay with the Browns, though the team elected to let him go as a free agent.
Hillis had seemingly succumbed to the "Madden Curse".
-
Over the next few years, Hillis would bounce around to the Kansas City Chiefs, Tampa Bay Buccaneers and New York Giants.
After serving as the backup to Jamaal Charles in 2012, Hillis finished with 309 yards and moved on to the Tampa Bay Buccaneers. Hillis would suit up for one game for the Bucs before being released.
Hillis would play two seasons with the New York Giants, rushing for a combined 362 yards and 2 touchdowns.
In 2015, Hillis would retire from the NFL, citing concussions and a lack of desire to play professional football.
-
It's tough to imagine a bigger NFL flash in the pan than Peyton Hillis, who went from the cover of Madden to a backup within one season.