Dan McGugin Credited With Inventing The Onside Kick
Published on January 12th, 2023 3:18 pm EST
Written By:
Dave Manuel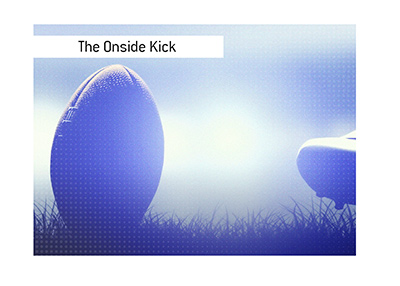 The onside kick is a centenarian.
On November 12th, 1921, the first "onside kick" was performed in a game between Georgia and Vanderbilt.
The crafty play was invented by Vanderbilt coach Dan McGugin, who was a true innovator of the game.
McGugin was always looking for ways to befuddle and surprise his opponents, and it's no surprise that he was the first coach on record to try an onside kick.
-
Vanderbilt was struggling against Georgia in their November 12th, 1921 game, and Coach McGugin was looking for some trickery to build momentum.
After managing just 9 yards of offense in the first half and trailing 7-0, Vanderbilt decided to try an "onside kick".
Back in those days, punts were live balls.
Instead of punting all the way down the field, Vanderbilt's punter placed the ball at around the 20-yard line.
Vanderbilt let the ball hit the ground and then pounced on it, running the ball into the Georgia endzone for a touchdown.
Georgia's players and coaches were shocked at what had happened. The referees consulted and awarded the touchdown to Vanderbilt.
The onside kick was born.
-
The funny thing about the first "onside kick" is that Georgia's coaches knew that Vanderbilt was working on such a trick play, but the team still didn't defend it.
In fact, a newspaper article after the game proclaimed that Georgia's players just "stood around" as the ball bounced and Vanderbilt ran the ball into the endzone.
The fans in attendance had no clue what had happened as well, as they reportedly stood around in "dumb amazement", wondering what had happened.
What had happened was that Vanderbilt had tied the game 7-7 with the first ever recorded "onside kick", much to the dismay of Georgia's players, coaches and fans.
Coach McGugin had done it again.
-
The rules behind the onside kick have obviously changed drastically over the years.
It's still possible for teams to surprise their opponents with an unexpected onside kick, though no team will ever be as unprepared for the play as Georgia was in 1921.