Norm Michael Only Realized He Was Taken in 1944 Draft - In 1999
Published on April 23rd, 2022 1:11 pm EST
Written By:
Dave Manuel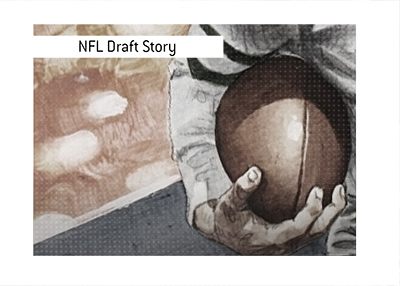 For the football players fortunate enough to be taken in the NFL Draft, the day is surely one of the best of their lives.
All of that hard work has finally paid off - the practices, the training, the drives to games.
For many, the money is life-changing and their lives will never be the same again. To celebrate, they gather their families and cheer when they are finally drafted.
For Norm Michael, it wasn't like that at all.
In fact, Norm Michael didn't even realize that he was drafted by a NFL team for 55 years.
-
In Round 20 of the 1944 NFL Draft, the Philadelphia Eagles selected fullback Norm Michael from Syracuse.
The problem? Norm Michael was off fighting in World War II.
This was before the days of the Internet, so word didn't travel that the Eagles had drafted Michael.
In fact, the Eagles never successfully reached out to Michael to tell him of their selection, and Norm Michael never bothered to see if he had been drafted or not after he returned from the war. Michael likely assumed that since he was off fighting in the war, nobody would draft him.
-
It wasn't until 1999 that Norm Michael finally realized that he had been drafted by a NFL team.
A local newspaper listed all of the Syracuse players that had been drafted by NFL teams and Michael, to his amazement, saw that he had made the list.
Michael and his son wrote a letter to the Philadelphia Eagles, wondering if he was possibly owed a signing bonus.
Unfortunately for Michael, there was no money owing, but he at least got a good story out of it.
-
In this day and age, something like this would never happen, especially given the fact that the Draft is only seven rounds long.