Kareem Hunt Favorite To Win, Though Alvin Kamara Is Steadily Advancing
Published on November 20th, 2017 5:48 pm EST
Written By:
Dave Manuel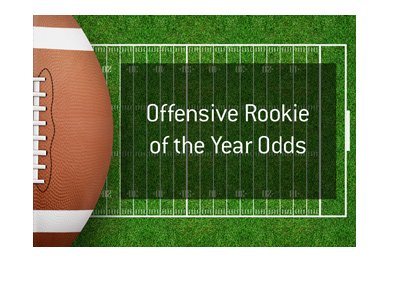 The race for the offensive rookie of the year award is coming down to the running backs.
Usually quarterbacks have the inside track to win the offensive rookie of the year award, though this year the crop of rookie quarterbacks has been suspect at best. This leaves five running backs and one wide receiver to duke it out for the award.
The current favorite to win the award is Kareem Hunt, as the Kansas City Chiefs running back dominated early in the season to become the odds-on favorite to win the award. That being said, Hunt has slowed down as of late (at least his stats have slowed down - the Chiefs aren't using him as much right now) and Alvin Kamara is quickly gaining ground.
Speaking of Alvin Kamara, the New Orleans Saints running back is helping to form one of the most lethal 1-2 punches that the league has ever seen at running back, along with Mark Ingram. Kamara, who functions as the catch passing back for the Saints, has been steam-rolling as of late and has shown no signs of slowing down. The lethal combination of Kamara and Ingram has helped propel the Saints to a record of 8-2.
Leonard Fournette, who seemed to be steam-rolling towards the award just a month ago, has considerably slowed down as of late, likely due to a lingering foot issue. In addition, Fournette missed a game due to disciplinary reasons, which may result in Fournette missing out on the offensive ROY award. Fournette is surely a beast, though he likely needs to get his foot properly dealt with in the offensive to regain his explosiveness.
Some of the other candidates for the award include Christian McCaffrey, Joe Mixon and Juju Smith-Schuster, though none of these men are considered strong candidates to win.
-
Here are the betting odds as of this moment:
Kareem Hunt, 1.7
Alvin Kamara, 3.25
Leonard Fournette, 4.5
Christian McCaffrey, 34.00
Joe Mixon, 51.00
Juju Smith-Schuster, 51.00
-
The Kansas City Chiefs have one of the easiest ROS schedule for running backs, while the Saints have one of the hardest.
With Fournette struggling as of late, this seems to be turning into a two-horse race between Hunt and Kamara. Given Hunt's schedule for the remainder of the year, there is a very good reason why he should be getting the nod.