The Shanghai Masters 1000 - Betting Odds, Favourites to Win, History and Prize Money
Click Here to Bet on The Shanghai Masters 1000!
(Ad)


With the world's largest population and a booming economy, China was always an important and financially viable venue for ATP World Tour. This incredible potential in the Chinese market is what led to the birth and encouraging boom of the Shanghai Masters.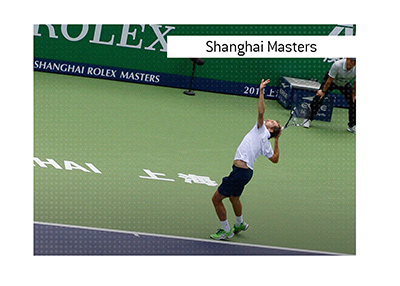 What is Shanghai Masters Tennis Tournament?
The Shanghai Masters Tennis tournament is an annual tennis tournament that is played in the most populous city of China, Shanghai. It is the biggest tennis event in Asia and holds the status of an ATP Tour Masters 1000 competition.
Venue, Naming, and Courts:
The tournament is played at the Qizhong Forest Sports City Arena, Shanghai. The event features matches in both the Singles and Doubles categories. It is named the Rolex Shanghai Masters for sponsorship reasons. The matches have been played on hard outdoors courts.
History and Foundation:
Realizing the immense potential of the Chinese and Asian Markets, the ATP World Tour and the Chinese Tennis Association laid out plans to expand the game in China to attract viewership and sponsors.
The Shanghai Open and The Tennis Masters Cup:
In 1996, the first ever grand scale tennis event named Shanghai Open was held in Shanghai. Following its success, the year-end Tennis championship, the Tennis Masters Cup, was shifted to Shanghai in 2002. Later, Shanghai also hosted the event between 2005 and 2008. During this period, Roger Federer won twice while Novak Djokovic claimed the 2008 title. This served as a huge boost to the growth and rise in popularity of tennis in China and South Asia.


>In 2007, ATP announced the foundation of an ATP World Tour Masters 1000 event in Shanghai, with the inaugural edition scheduled for 2009. That's how the current Shanghai Masters 1000 tournament was conceived. It had been allocated the annual October slot, the time of the year previously reserved for the Madrid Open.


Past Champions:

The Roll of Honour of the Shanghai Masters 1000 has featured all the big names of this era, barring Rafael Nadal. The inaugural singles event was won by the Russian Tennis Star Nikolay Davydenko, who managed to defeat Rafael Nadal in the final.

Following that, it remained s regular sequence of victories for Andy Murray, Novak Djokovic, and Roger Federer. Novak Djokovic has won the most Shanghai Masters Titles with 4 triumphs in 2012, 2013, 2015, and 2018. Andy Murray won the event three times, with victories coming in 2010, 2011, and 2016. Other than them, Roger Federer has won the competition twice (2014 and 2017).

As far as the record for consecutive Shanghai Masters 1000 Titles is concerned, Andy Murray and Novak Djokovic both won two consecutive titles between 2010-11 and 2012-13, respectively.

In the doubles category, the French team of Julien Benneteau and Jo-Wilfried Tsonga won the inaugural edition in 2009.

Overall, the Brazilian doubles specialist Marcelo Melo has been most successful with three titles (each time with a different partner).


The Reigning Champions:

The current World Number 1 Daniil Medvedev won the 2019 Shanghai Masters title after edging out the German star Alexander Zverev in the final. Mate Pavic from Croatia and Bruno Soares from Brazil won the 2019 Shanghai Masters 1000 Title in the doubles category.


Prize Money:

The overall prize money for the 2019 event was about Eight and a half Million US Dollars, which is set to break the 10 million dollar figure this year.


--

Due to the pandemic, both the 2020 and 2021 editions of the Shanghai Rolex Masters were canceled. However, with life returning to normalcy, the tournament is all set to return this year.


2022 Rolex Shanghai Masters 1000 Tennis Tournament:

The 2022 Shanghai Masters 1000 tournament is scheduled between October 9th, 2022, and October 16th, 2022. All the key players on the tennis circuit are expected to make their way to the Chinese Capital in October. Seeing the revival of such a significant ATP fixture is genuinely heartening.

Tournament Details:

Total Prize Money: $8.5M
Surface: Outdoor hard courts
Country: China


View more Tennis Tournaments